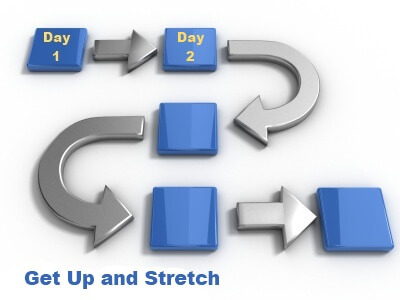 Welcome to Day 2! Today, I want you to get up and stretch. Do it before you take your shower, bathe, or get dressed for the day. Stretching first thing in the morning will wake up your muscles, give you energy, and re-connect you with the miraculous body God gave you.
Remember: A body in motion tends to stay in motion. Your body needs to be in motion to move the excess weight off.
Your goal is to stretch your body for 10 minutes. Carve out this special time to celebrate your body's physical abilities – whatever they are.
Be gentle with yourself. Do only as much as you feel comfortable and be considerate of any limitations you may have. As you practice your morning stretch every day, see and feel yourself becoming more lean and limber.
Here is a stretching routine I do before I shower in the morning. It takes a while for the water to warm up, so I turn on the shower and do my stretching while I am waiting for the water to get warm:
Feel free to create your own stretching routine. Yours can be as simple as reaching for the sky with each arm, reaching for your toes, and then reaching to each side.
Don't worry if you can't do 10 minutes today. How many minutes are you willing to spare? Start there and then STEP UP gradually. For example, let's say you can only do 5 minutes today; do that. Feel good that you took action. When that becomes easy for you, then add another minute, then another until you can do the whole 10 minutes. Just be consistent and stretch every morning.
If you need more information about the benefits of stretching and how to start stretching safely, then check out this:
Put your full glass of water beside your bed before you go to sleep tonight and drink it in the morning.
View Small Steps to Weight Loss Day 3 Tip
View Small Steps to Weight Loss Day 1 Tip