When you eat emotionally, what is the "it" you are trying to fix?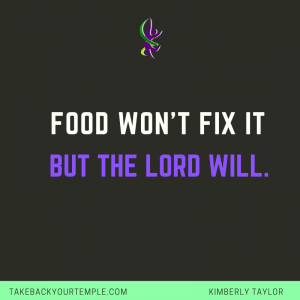 This question came to me during a visit with my mother recently.
We had made plans to go to the movies one day and then to go out to eat afterwards. However, she heard about a family situation that worried her.
She told me, "I just can't go to the movies with this going on right now."
But I told her gently, "Mom, the two of us staying home and worrying about this is not going to change anything. We will do what we can, but I think we should go on to the movies as planned. Life goes on."
She agreed and we prayed together about the situation. The Lord gave us an answer about what we should do. We did what He said and then went on to the movies.
Later in the movie theater, she thanked me for encouraging her to go and and realized that staying home would have solved nothing.
This event reminded me of how I used to handle distressing situations…or rather try to escape them through using food as the answer for everything.
But the Lord taught me that when I was tempted to cope with my emotions to ask myself this:
''Will eating fix anything?''
No, because the problem would still be there when I was finished!
Instead, I had to learn to practice what the Bible says to do in response to anxiety-producing situations:
Be anxious for nothing, but in everything by prayer and supplication, with thanksgiving, let your requests be made known to God; and the peace of God, which surpasses all understanding, will guard your hearts and minds through Christ Jesus.

Philippians 4:6-7
That's what Mom and I did during my visit. It worked!
So the next time you are tempted to eat due to stress and anxiety, remind yourself of the truth:
Food won't fix it. But the Lord will. And that's where our focus needs to be.
Be Blessed with Health, Healing, and Wholeness,
Kimberly Taylor

Author of the Take Back Your Temple program
P.S. Do you struggle with overeating sugar? If so, you are not alone!
Overcoming sugar addiction was a key factor on my weight loss journey; I lost 85 pounds and dropped from a size 22 to an 8.
In our 14-day Sugar Detox Challenge online course (inside the Take Back Your Temple program), you'll get the same success strategies and support to gain peace in your eating habits and achieve lasting weight loss.
Click here to learn more about the Take Back Your Temple program.
"Prayer for Weight Loss"
<