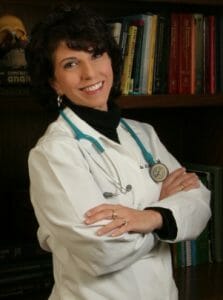 I am thrilled to present this interview with Dr. Rita Hancock, the author of top selling book Radical Well-being: A Biblical Guide to Overcoming Pain, Illness, and Addictions.  Dr. Rita was amazed to discover the shocking link between emotional and spiritual stressors to physical illness, chronic pain, and addictive behaviors. I hope you'll find this interview as eye-opening as I did:

1) Dr. Rita, tell us about your book!
Radical Well-being—A Biblical Guide to Overcoming Pain, Illness, and Addictions is about how emotional and spiritual stressors can drive us into compulsive behaviors like overeating, consuming drugs and alcohol, etc., in addition to causing physical illness and pain problems. In my book, I tell lots and lots of stories about patients who have broken free from these behaviors and illnesses by (1) forgiving people who hurt them in the past; (2) seeking scriptural truth to replace the lies that they internalized about themselves when they were children; and (3) acknowledging and repenting from past…..umm…."indiscretions" (sounds nicer than "sins!").
2) What started you on your writing journey?
About six years ago, I was inspired to write my weight loss book, The Eden Diet, based on my own experience growing up morbidly obese, losing 75 pounds before college, becoming a compulsive eater in college, and then overcoming that compulsive eating problem. In hindsight, I think God had me write that book as much to straighten out my own thoughts as to help others! Eventually, God gave me my second book, Radical Well-being, which helps identify and correct the emotional root causes of those unwanted behaviors and pains.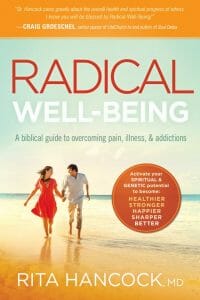 3) What motivated you to write Radical Well-being?
After only a short time in practice, I noticed that some patients had physical pain in spite of negative x-rays, MRIs, and blood tests. Other patients had stress-induced compulsive behaviors, like smoking, drinking alcohol, and over-eating. Eventually, as I matured in my faith and as I matured as a physician, I got gutsier and started asking patients about past emotional traumas and current areas of stress in their lives that might have been contributing to their self-destructive behaviors and illnesses. It turned out that getting my patients to talk about these things made a huge difference. Many of them lost weight and adopted healthier habits, and many others found pain relief and overall stress reduction.
4) Did you write about yourself in any of those patient stories?
You bet! Little pieces of my own story are woven into some of the patient scenarios I talk about in my book. As the commercial says, "I'm not just the president of the Hair Club….I'm also a customer." I've personally dealt with some of the same issues my patients face…  
5) Tell us how to find out more about you and your work.
For more information about me, my practice, and my books, visit www.RitaHancock.com. To recieve my FREE monthly newsletter and qualify for other freebies, click on the button at the bottom right of the home page of that website. To view the Radical Well-being book trailer on Youtube, follow this link: https://www.youtube.com/watch?v=7C0_VlBFmQ8.
Kim, I pray this material helps your followers find physical, emotional, and spiritual wellness. Thanks for the opportunity to share with you!
Author Bio:
 Dr. Rita Hancock is a board-certified Physical Medicine and Rehabilitation physician with subspecialty board certification in Pain Management. In addition to writing health and wellness books from the Christian perspective, Dr. Rita also serves as the Oklahoma state representative in the House of Representatives of the Christian Medical and Dental Association, has been a health blogger for The Christian Post and a columnist for Life:Beautiful Magazine, is a blogger for the acclaimed Wordserve Watercooler writer's blog, and appears on radio (including K-love and Moody Radio) and television (including TBN's Doctor to Doctor, CBN's 700 Club Interactive, and ABC Family) talking about health and wellness issues from a Christian perspective.