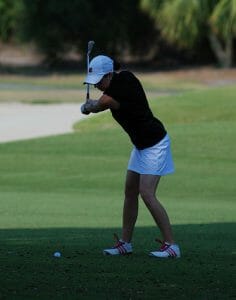 I am learning to play golf and don't play well right now. I want to learn because Mike has played for about 12 years and it's something that we can do together as a couple for fun.
But I have to admit that there are times when I want to give up. My body doesn't seem to do what I want it to do. I'll hit the ball into the woods, into a ravine, into a lake, in short everywhere but straight! More than once, I've said "I hate this game!" But I knew deep down I didn't really mean it. I was just frustrated with my seeming lack of progress.
However, I keep reading golf books, gathering tips from the Internet, and watching YouTube videos, in hopes that someday I'll get the "click" and everything will just flow. Until that day, I will keep practicing.
Related Articles

Until | The Lord Will Provide | Feed your Faith, Starve your Doubts | God Promised to Be with You – Only Believe
I'm reading a book called "The Single Plane Solution" by Todd Graves right now that gives me new perspective on what is involved before you really get good at a new skill, in this case golf. As I read it, I realize that I came to same conclusion years ago in creating a healthy lifestyle for myself. I'm going to share with you an excerpt from the book and perhaps it will give you a new perspective as you work on your health goals:
"A reporter in 2002 asked [Moe]  why he thought that I was the only one who could teach his golf swing. Moe in his eloquent simplicity said, "Because he really wants it". He was right. Moe didn't mention talent, money, strength, physical attributes, or past successes. Moe, as usual, saw what was most important in any person who wants something – desire.

The desire to do whatever it takes.

An important question to ask yourself is do you have the desire to follow through and how badly do you want it? The reason I ask you this question is because when you really want something you do whatever it takes. You go the extra mile and practice the extra hour. You ask for help when you need it and you willfully make things that seem impossible – possible. And throughout this process, you also understand that failure and frustration, when directed, is a launching pad for progress.

Desire gets you through the tough times and the times when you feel as though you are spinning your wheels. It gets you past the heartache of a bad round and the bad practice day. Desire is what holds you together when your friends think you are crazy…"
What Graves said about Desire in the book reminded me of the following Scripture: " The desire of the lazy man kills him, For his hands refuse to labor (Proverbs 21:25)."
Two words in the scripture stand out to me: DESIRE and REFUSE. They both imply choice. What I think this scripture means is that if you desire something, you have two choices as to what to do about it: You either work for it or you give up the desire. Either choice means life.
If you desire something, but are not willing to work for it, then that desire is going to kill you.
Maybe it will not kill you physically, but it kills your confidence and certainly tears down your self-image. It eventually kills your joy and makes you relentlessly negative because you are in a "no-win" situation. Being in your presence drags other people down. Deep down, you know that you are deceiving yourself, living a lie. That is killing knowledge.
If you do not want to be such a person, then by all means, make a decision right now: Either give up your desire or decide right now that you are going to start working for what you want. Start PRACTICING and do it every day.
It only takes a second to decide, but your answer will determine the course of your life from this day forward. I've made my decision concerning golf; I may have to fight cursing at times, but I am going to stick with it. I can see myself getting good. It may take another month of practice or it may take years. I don't care. I am going to keep working until I get what I want.
How about you?
Kimberly Taylor
Author, Take Back Your Temple eBook
https://takebackyourtemple.com
P.S. What would happen if God's people "ate" His word as often as we consume food?
Feeding on God's word gives you strength, joy, and courage. To help you discover the hope in God's word and break mental strongholds, check out my God's Word is Food 90-day daily devotional on Amazon.com here.
Learn more here: https://takebackyourtemple.com/gods-word-is-food-3
The eBook is in Amazon Kindle format, but you don't need a Kindle to read it. Amazon has a FREE Kindle reader you can use to access the book instantly on your computer.
Learn more here: https://takebackyourtemple.com/gods-word-is-food-3