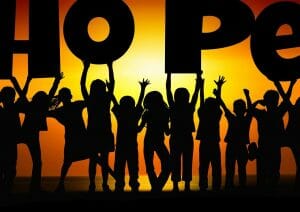 Yesterday, I asked you to consider what you are hoping for. While a good thing, here is a word of caution:
Be sure the thing you hope for is not the thing you hope IN.
What do I mean?
When I was a single woman, I hoped for a husband. While my life was fine in other areas, I was unhappy about this one thing.
Every day I did not have a husband was a day I felt that I could not be completely happy.
Then one day, I had a revelation:
If I could not be happy without a husband, then I would never be happy with one! Or at least, not for long.
My husband (who turned out to be Mike Taylor) was going to be an imperfect man in the flesh.
And if I made my husband responsible for my happiness, then I would be putting expectations on him that only God can fulfill.
I realized that if I could not be happy in my relationship with a perfect God, then I would never be happy with an imperfect man!
So while I still hoped for a husband, I stopped making my happiness dependent upon getting one.
Rather, I put my hope in God – finding delight in Him – while I waited for my circumstances to change.
Because I learned to be happy before Mike arrived, his arrival only increased it.  Plus, even on those marital days when our "imperfections" come out, I can still be happy!
The bottom line is, do not make the thing you are hoping for responsible for your happiness. Even when you get it, you will still have to deal with its imperfections:
Houses can sometimes have leaky roofs
Cars can have mechanical problems
Bodies still need to be maintained
People at new jobs may get on your nerves
In Philippians 4:11-13, the apostle Paul writes about learning what to put his hope in, even in the midst of life's imperfections:
"…for I have learned in whatever state I am, to be content: I know how to be abased, and I know how to abound. Everywhere and in all things I have learned both to be full and to be hungry, both to abound and to suffer need. I can do all things through Christ who strengthens me."
Today,  place your hope in the Lord. In that way, you can find strength, contentment, and peace no matter the circumstances!