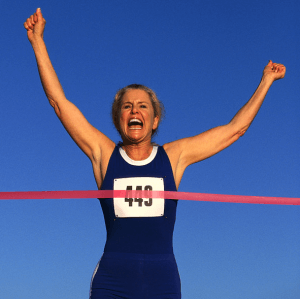 Whenever you are working on a goal, it is easy to get discouraged if results take longer than you want.
Discouragement is like weeds in a garden: If you don't pluck up these thoughts, they can take over!
I recommend using the same question I used to take the option to quit off the table.
I asked myself, "Do you REALLY want to start this over again"?
I decided that I would rather press forward through the difficult times rather than quit and have to start over.
Plus, the enemy has a way of making the past look better than it actually was during times of difficulty.
Remember when the Israelites were on their journey to the Promised Land (see Numbers chapter 13 and 14)?
When things got tough, they grumbled and complained, then talked about returning to Egypt.
However, here is a snapshot of the Israelites' lives in Egypt:
They were in slavery in Egypt
Their lives were bitter with bondage in Egypt
They served with rigor in Egypt
They groaned and cried in Egypt
They feared the Egyptians would murder their sons in Egypt
They knew their lives were awful in Egypt…why would they want to go back there?
They wanted to return to a known hell than travel to a new heaven!
It takes courage to face an unknown future. However, when fear of the unknown comes, focus on what is KNOWN about God:
God is with you wherever you go
God is faithful
God makes His strength perfect in your weakness
God gives you a way out of every temptation
God gives you wisdom
God gives you His grace to have dominion over sin
God gives you His peace as you keep your mind stayed on Him
Jesus gives you His joy – and the joy of the Lord is your strength
This is the real work of weight loss – the Spiritual and mental battle. You need that God's strength to make wise choices daily to secure your health.
So take 'turning back' off the table.
Press forward, even if you have to crawl at times.
Encourage yourself in the Lord and you will reap in due season.
No turning back!
Be Blessed with Health, Healing, and Wholeness,
Kimberly Taylor

Author of the Take Back Your Temple program
P.S. Do you struggle with overeating sugar? If so, you are not alone!
Overcoming sugar addiction was a key factor on my journey to losing 85 pounds and dropping from a size 22 to a size 8.
In our 14-day Sugar Detox Challenge online course (inside the Take Back Your Temple program), you'll get the same success strategies and support to gain peace in your eating habits and achieve lasting weight loss.
Click here to learn more about the Take Back Your Temple program.
"Prayer for Weight Loss"