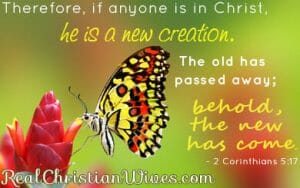 One of life's biggest questions is: "Who Am I?"
How do you define yourself?
Is it by:
The way you look?
Your role in life – as a wife, mother, sister, friend, husband, father, brother?
Your business or career?
The amount of money you have or lack thereof?
The possessions you own?
I know I once did.
But I learned that if you use these things to define yourself – then you are doomed to a life filled with emptiness.
I am convinced that there is no way to know who you really are, nor why you are here without a personal relationship with God.
Picture a cross in your mind – the vertical line from top to bottom and the horizontal line bisecting the vertical line across.
Without the vertical relationship – nurturing a relationship with God through Jesus, there can be no effectiveness in our horizontal relationships – our relationship with our environment, ourselves, and others.
Why?
Because our natural selves get in the way.
Naturally, we are focused on self – our feelings, our pleasures, our ambitions, our desires.
But God wants us to look beyond ourselves and gain abundant life, a life of love, purpose, and significance through abiding in Him.
Through our relationship with God, He holds up a mirror to us so that we can see ourselves as we really are.
But here's the kicker: it takes courage to be willing to see the truth about yourself.
Even though every human heart cries out to know who we really are, our natural selves shrink from the truth.
It might try to escape through addictions, sex, through acquiring material things, through fame, through other people's approval, and even through the occult.
All to avoid being alone with the truth.
But with God, you are never alone.
Ask, and He will reveal the truth to you and give you the grace to handle it.
So you don't use the revelation of your faults to condemn yourself or beat yourself up about them.
No – you praise God for them because they remind you of how much you need a Savior!
The apostle Paul models the attitude we ought to take in 2 Corinthians 12:8-10:
'Concerning this thing I pleaded with the Lord three times that it might depart from me. And He said to me, "My grace is sufficient for you, for My strength is made perfect in weakness." Therefore most gladly I will rather boast in my infirmities, that the power of Christ may rest upon me. Therefore I take pleasure in infirmities, in reproaches, in needs, in persecutions, in distresses, for Christ's sake. For when I am weak, then I am strong.'
You see, your faults and weaknesses can become your biggest curse or your biggest blessing.
They become a curse when (because of pride) you refuse to acknowledge them, recognize your need for a Savior, and submit to God's loving desire to teach you a better way.
However, when you recognize your faults, humbly admit that you need a Savior to help you, and obey the leading of the Holy Spirit as he conforms you to Christ's likeness daily, then you are rewarded with a deeper relationship with God that permeates everything you do and everything you are.
It starts with trusting God and having faith in His word.
So every morning, say to God in prayer:
"God show me who you are and then I can see clearly who I am. Today, help me to keep my mind fixed on Jesus, the author and finisher of my faith. Teach me to love others as you love me. Use me today according to your will and your purpose so that I may glorify you in my body and in my spirit."
As you go through your day, acknowledge God in all your ways.
Praise Him for what you have. Pray for the things you need.
As your faults are revealed to you, humbly acknowledge them and ask God to perfect his strength through your weakness.
Every day, allow your life experiences to draw you ever closer to Him.
And as you acknowledge God, He will reveal Himself, show you who you are, direct your path, and fill your life with an abundance of peace and truth.
P.S. If you are not secure in your relationship with God or want to learn how to have one, learn how here.