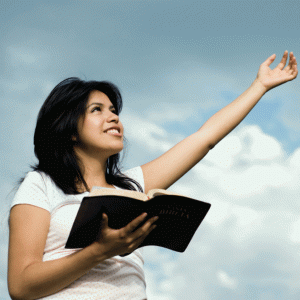 Imagine that your mind is a gated community. Gated communities are typically more secure than un-gated communities.
Why?
Because gated communities have a guard to ensure that only people with a right to enter can come inside.
But suppose a gated community is always unguarded and the gate left wide open. Gangs have invaded the community and are bullying the residents.
The gangs have a goal: Steal, kill, and destroy.
Would you want to live in such a community?
Of course not.
And yet many Christians live in such a community mentally. Fear, anxiety, worry, self-defeating beliefs, hopeless thoughts, and insecurity bully them. The enemy's "gangs" have taken over their mental territory.
Proverbs 25:28 says,
Whoever has no rule over his own spirit Is like a city broken down, without walls."
But it is time to drive those gangs out and take back your territory. Praise God, He has given you a powerful weapon to do just that! Your heritage is to operate with the mind of Christ.
This is the final article in our Spiritual Warfare series, which details the armor of God (see Ephesians 6:14-17) and how it applies in your weight loss journey.
This article covers 'the sword of the Spirit,' which is the word of God. Think of yourself as like a Spiritual law enforcement officer. But instead of a gun as your enforcement weapon, you have a sword!
Hebrews 4:12 describes how effective your sword is:
For the word of God is living and powerful, and sharper than any two-edged sword, piercing even to the division of soul and spirit, and of joints and marrow, and is a discerner of the thoughts and intents of the heart."
You will use your sword to evict the existing gangs (mental strongholds). You will also use it to guard your mind for the future, keeping out those elements that would steal, kill and destroy.
Like a guard at a gated community, you need to have a list of those thoughts to allow to enter and stay in your mind. If a thought does not meet the criteria on the list, you will reject it.
Use Philippians 4:8 as your permissions list:
Finally, brethren, whatever things are true, whatever things are noble, whatever things are just, whatever things are pure, whatever things are lovely, whatever things are of good report, if there is any virtue and if there is anything praiseworthy—meditate on these things."
Let's say that you have a thought of discouragement that tries to enter into your mind like "There is no hope" regarding your weight loss goals.
You check that thought against your permissions list. "Is it true?"
No, it is not. In fact, Colossians 1:27 says:
To them God willed to make known what are the riches of the glory of this mystery among the Gentiles: which is Christ in you, the hope of glory."
Since you have Christ in you, you have the hope of glory in you. So then how can you ever think or say that you have no hope? To agree with that is to allow a "gang member" into your mind!
Here is another example. A thought tries to enter that says, "I'll die if I don't have that cookie."
You check that thought against your permissions list. "Is it true?"
No, it is not. In fact, Psalm 118:17 says:
I shall not die, but live, And declare the works of the Lord."
Some gang members are more persistent than others. But each time you pull out your sword and use the word of God against them, you inflict a cut.
Here is a secret for dealing with bullying mental gangs:
They have no power except that which you choose to give them.
The enemy tries to rule you through fear. But the best protection you have against him is to keep reminding yourself about God's love for you. God's perfect love casts out fear!
If you have mental strongholds or thoughts that you are battling habitually, then the 'Renew your Mind' section of the Take Back Your Temple program will be of great help to you.
Be patient in this process. If guarding your mind is new to you, then it may take time for you to gain confidence in using your sword. But the more you use it, the more skilled you will become.
The way to change is to decide that you want to live differently – and then take steps daily toward that goal. It is time to stop the bullying and take a stand against gang activity in your life.
Eventually, you will clean up your mental neighborhood and it will become a place of peace and rest. The mind of Christ is a victorious neighborhood that is a joy to live in!
Be Blessed with Health, Healing, and Wholeness,
Kimberly Taylor

Author of the Take Back Your Temple program
P.S. Do you struggle with overeating sugar? If so, you are not alone!
Overcoming sugar addiction was a key factor on my weight loss journey; I lost 85 pounds and dropped from a size 22 to an 8.
In our 14-day Sugar Detox Challenge online course (inside the Take Back Your Temple program), you'll get the same success strategies and support to gain peace in your eating habits and achieve lasting weight loss.
Click here to learn more about the Take Back Your Temple program.
"Prayer for Weight Loss"