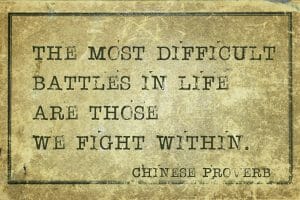 This week, I heard an audio message that rocked me to the core.
Although it is less than 30 minutes, the message is priceless.
When you take its simple message to heart and apply it, it will change your life for the better.
I promise that it will be worth your time. I've listened to the message several times myself!
The message is called 'The Battles Within' by pastor Nathaniel Bronner.
You can listen to the free audio message here (no sign-up required):
The Battles Within (free audio)
A Chinese proverb says, "The most difficult battles in life are those we fight within." We can win every battle with the Lord on our side!
Be blessed with health, healing and wholeness,
Kimberly Taylor, Creator of the Take Back Your Temple program
P.S. Tired of carrying emotional weight?
The value of the Take Back Your Temple program is that you will learn how to think differently through Biblical truth.
You'll discover how to lay aside emotional weight and walk in freedom.
Join a support community of other empowered Christians discovering how to release weight and keep it off.
Click here to become a Take Back Your Temple program member.