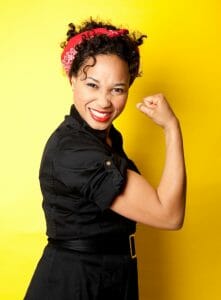 Here is the second good reason to cheer up this week. If you missed the first reason, you can find that here.
Whenever Jesus told someone to be of "good cheer" in the Bible, He always followed it up with a good reason. Here is an example from the story of the woman suffering from an issue of blood. Recall in the story, she sought Jesus for healing. She pressed her way through the crowd, believing she would receive healing if she only touched the hem of his garment.
She succeeded in touching him, but feared when Jesus asked who touched him, feeling power go out from His body:
"But Jesus turned around, and when He saw her He said, 'Be of good cheer, daughter; your faith has made you well.' And the woman was made well from that hour (Matthew 9:22)."
You too have faith as a believer in Jesus Christ. "For I say, through the grace given to me, to everyone who is among you, not to think of himself more highly than he ought to think, but to think soberly, as God has dealt to each one a measure of faith (Romans 12:3)."
When you believe your faith has the ability to change things, here are the results:
"But without faith it is impossible to please Him, for he who comes to God must believe that He is, and that He is a rewarder of those who diligently seek Him (Hebrews 11:6)."
You Know your Faith Has Power
"…for assuredly, I say to you, if you have faith as a mustard seed, you will say to this mountain, 'Move from here to there,' and it will move; and nothing will be impossible for you (Matthew 17:20)."
"My brethren, count it all joy when you fall into various trials,  knowing that the testing of your faith produces patience. But let patience have its perfect work, that you may be perfect and complete, lacking nothing (James 1:2-4)."
Kimberly Taylor
I encourage you to meditate on the #2 reason to be of good cheer today: You have faith!
P.S. One of the eBooks included in the Take Back Your Temple Program is "Prayers and Promises to Take Back Your Temple" because I want you to have the dozen of scriptures and prayers I used in my own weight loss journey so you can gain physical, emotional, and spiritual victory every day. Check it out here:
https://takebackyourtemple.com/program
This resource is specifically structured around God's promises for health and strength – another reason to be cheerful! You can learn more here: