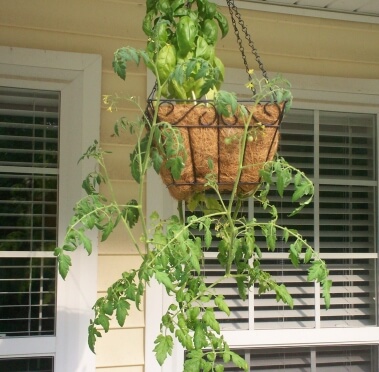 Did you know that tomato plants can "talk"? I didn't either until I got the wacky idea to plant my tomato plants upside down.
Okay, so it wasn't an original idea. I saw an infomercial about a tomato planter that allows you to plant tomatoes upside down. It is supposed to make your tomatoes grow larger and decrease the need for pesticides. So I decided to make my own planter using a wire hanging basket with a coconut fiber lining. That way, I didn't have to worry about drilling holes in the bottom of the basket, but just use my fingers to poke a hole in the liner and thread the tomato plants through that.
So I planted two tomato plants (cherry and Roma) upside down, filled the basket with dirt, then planted a basil plant right side up in the basket. You can see what it looks like like in the photo.
Anyway, my tomato plants have taught me two important spiritual lessons as I have watched them grow. Both shocked me because they were completely unexpected.
The first lesson I discovered as I was watering the plants one day. I was shocked to see that in spite of my having planted the plants upside down, the new stems were making a U-turn to grow upwards, seeking the sun.
The tomato plants knew instinctively that only by seeking the sun could they find the nourishment they needed to grow and reach their maximum potential.
Similarly, when we are in a "down" situation, we also need to seek the "Son" everyday so that we can grow "up" and become all that God wants us to be.
The second lesson was also surprising. In my effort to thread one of the plants through the basket when I was planting it, I broke the main stem. It wasn't broken completely in two but it was severely damaged.
Instead of discarding the plant however, I decided to leave it alone. I hoped it would somehow repair itself but I was fully expecting it to wither and die.
Surprisingly, it brought forth flowers just like the plant that had not been broken. But here is the interesting thing…the plant that was broken has brought forth about 6 tomatoes on the plant so far. The plant that was not broken is only bringing forth flowers…but no fruit.
This situation reminded me that God desires that we bear fruit in our lives, which is a natural outgrowth of our relationship with Him. In order to bear fruit, we must be broken. We recognize our weaknesses and hurts, and bring them to God so that He can heal them. He is the only one who can.
If we insist of being prideful, pretending that everything is okay, and deny our need for God, we might look good to others on the outside with our pretty flowers, but we will never bear fruit. The fruit in our lives is something tangible that others can taste and see that the Lord is good!
I hope you will take these lessons to heart and they will inspire you to bring your brokenness to God. Let him heal you as you bask in the Son's light so that you can bring forth an abundance of fruit that others can see and taste!
Be blessed with health, healing, and wholeness,
Kimberly Taylor
Creator of the Take Back Your Temple program
P.S. When it comes to weight loss, do you often know what you should do but have a hard time doing it?
I struggled with this issue on my own weight loss journey, but I discovered that "Nothing is different until you think differently." – Pastor James MacDonald
The value of the Take Back Your Temple program is that you will learn how to think differently through using Biblical keys to overcome obstacles. You'll discover how to win the Spiritual and mental battle that often causes us to become inconsistent and get off-track on our weight loss journey.
Join a community of like-minded Christians losing weight and keep it off.
Click here to learn more about the Take Back Your Temple program