My husband Mike and I participated in a Citizens Police Academy that our county Sheriff's department sponsored a few years ago.
At one night's session, a cop made me an offer at the food table that I could refuse!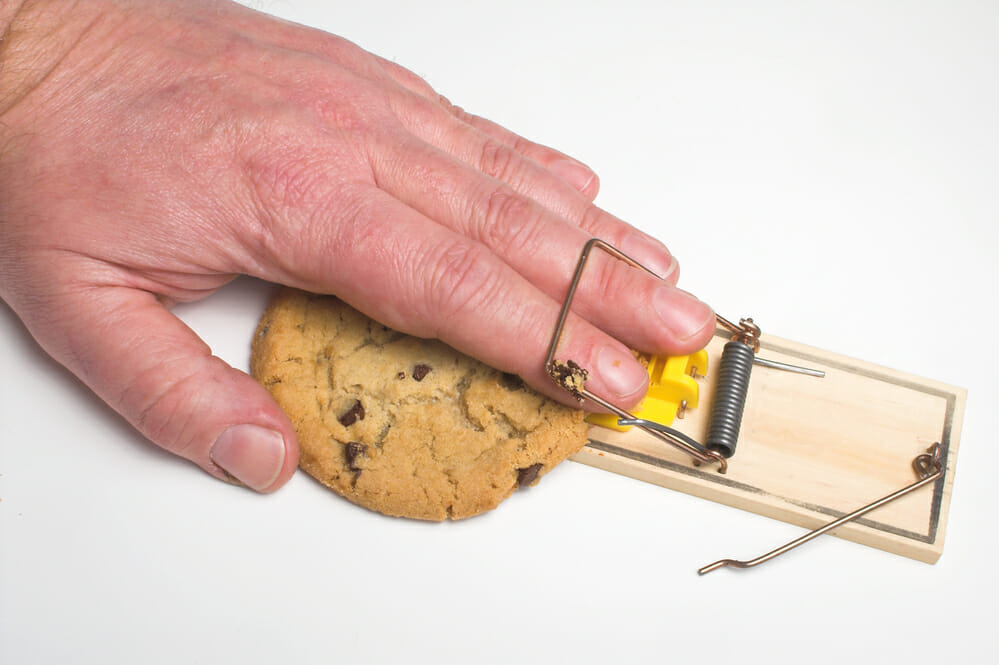 It proved to me how God has grown me further in the ability to resist sugar temptations.
He can do the same for you if sugar addiction has you in its grip right now.
Here's what happened:
I was standing in front of the food table prepared for Academy students: Deli sandwiches and wraps, chips, fresh fruit, and chocolate chip cookies.
As I was fixing my plate, one of the police officers grabbed one of the cookies and said to me: "Ma'am, you've got to help me eat some of these."
I glanced at the cookies, then at him. I responded with a laugh, "No thank you, Sir. My husband and I are staying away from those!"
Later as I thought about the temptation, I realized something amazing: The cookies weren't even appealing to me at that moment.
What a big change from many years ago when I battled food addiction! Check out the quick clip below from my interview with CBN's The 700 Club in which I describe the grip sugar had on me:
But with the temptation that night, the cookies didn't have much appeal. Just imagine for a moment eating each of these alone:
Eating white sugar alone
Eating white flour alone
Eating a raw egg alone
Eating butter alone
How appealing was that to you?
The Lord delivers us from temptation in many ways. He makes a promise in 1 Corinthians 10:13:
No temptation has overtaken you except such as is common to man; but God is faithful, who will not allow you to be tempted beyond what you are able, but with the temptation will also make the way of escape, that you may be able to bear it.

1 Corinthians 10:13
If sugar has hijacked your brain, then recognize that it may take some time to re-program your brain.
But be willing to work that process of healing your brain with the foods God made, renewing your mind through God's word, and living day by day in God's strength.
And soon, you too will experience the joy that freedom from food addiction brings!
Be Blessed with Health, Healing, and Wholeness,
Kimberly Taylor

Author of the Take Back Your Temple program
P.S. Do you struggle with overeating sugar? If so, you are not alone!
Overcoming sugar addiction was a key factor on my weight loss journey; I lost 85 pounds and dropped from a size 22 to an 8.
In our 14-day Sugar Detox Challenge online course (inside the Take Back Your Temple program), you'll get the same success strategies and support to gain peace in your eating habits and achieve lasting weight loss.
Click here to learn more about the Take Back Your Temple program.
"Prayer for Weight Loss"