A few years ago, I used a potent key to escape the enemy's food temptation snare.
A famous food truck came to our town to appear at a local festival. The food truck had a reputation for giant hamburgers, which people said were among the best.
When I first heard about the food truck visit, I got excited. I imagined how delicious the burger would be, satisfying my curiosity.
However, on food truck visit day, a funny thing happened.
When I imagined going to the food truck and eating one of those burgers:
My stomach felt queasy
I saw the burger grease making me feel sluggish, tired, and mentally dull
I saw the burger sapping my energy and impacting my productivity for the rest of the workday
The food truck burger lost its appeal, and I didn't go. Why?
Simple: I did not want my body feeling awful.
Without realizing it, the simple act of shifting my focus helped me escape the enemy's snare!
Imagination's Role in Food Temptation
According to 1 Corinthians 10:13, the Lord makes the way of escape with every temptation:
No temptation has overtaken you except such as is common to man; but God is faithful, who will not allow you to be tempted beyond what you are able, but with the temptation will also make the way of escape, that you may be able to bear it.
Below is a picture of how the enemy tempts our flesh if we fail to take our thoughts/imagination captive (see 2 Corinthians 10:5):
In my case, the Lord showed me how to harness the power of my imagination to escape this food temptation.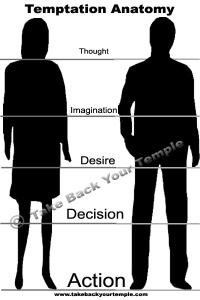 Here is the mental shift that occurred:
Before: I was tempted to go to the food truck through imagining how good the burgers would taste.
After: I avoided the food truck because I imagined how awful eating the burgers would make me feel afterwards!
I pre-played the future outcome without actually having to go through the pain of bingeing off the greasy hamburger!
How the Enemy Ensnares You
An old saying goes, "An intolerable situation will remain in your life as long as you are willing to tolerate it."
For many years, the enemy deceived me with lies, subtly triggering my thoughts and imagination to engage in destructive behavior. I believed that I needed binge eating to cope with life.
But bingeing wasn't helping me cope with life; instead, it numbed me to life!
My life was passing by; however, I didn't enjoy it. I was going through the motions, like sleepwalking.
It took a chest pain on December 11, 2003 to wake me up.
I realized I was tolerating many things that made me feel awful, Spiritually, mentally, and physically.
I was a single woman at the time and was settling for a relationship that made me feel awful.
I was in extreme credit card debt, which made me feel awful. Tolerating foods that made me feel terrible were just the tip of the iceberg!
When the Lord told me in His loving voice, "It is not supposed to be this way," I had a choice.
Would I believe Him? My answer was "Yes!"
It was one of the best decisions I ever made.
If I had not allowed the Lord to heal my heart and renew my mind, I would have continued to tolerate awful things.
I would have allowed the enemy to continue to steal life from me through food addiction. How about you?
The Way of Escape from Temptation
In John 10:10, Jesus warns us:
The thief does not come except to steal, and to kill, and to destroy. I have come that they may have life, and that they may have it more abundantly.
The enemy's identity as a "thief" means his chief goal is to steal. If the enemy can keep you trapped in destructive habits, then that leaves him free to steal from you without interference.
Are you okay with the enemy stealing from you? If not, it is time to make a change.
Take a deep breath and decide that you will refuse to tolerate destructive thoughts and imagination that lead to unproductive habits.
Instead, grab hold of the abundant life the Lord wants for you.
One small choice today can make all the difference to living in freedom!
Decide that you will refuse to tolerate destructive thoughts and imagination that lead to destructive habits.
Instead, grab hold of the abundant life the Lord wants for you.
One small choice today can make all the difference to living in freedom!
Be Blessed with Health, Healing, and Wholeness,
Kimberly Taylor

Author of the Take Back Your Temple program
P.S. Do you struggle with overeating sugar? If so, you are not alone!
Overcoming sugar addiction was a key factor on my weight loss journey; I lost 85 pounds and dropped from a size 22 to an 8.
In our 14-day Sugar Detox Challenge online course (inside the Take Back Your Temple program), you'll get the same success strategies and support to gain peace in your eating habits and achieve lasting weight loss.
Click here to learn more about the Take Back Your Temple program.
"Prayer for Weight Loss"