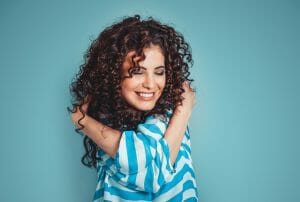 I was working on a difficult project recently and in the midst of it, I noticed tension in my head, neck, shoulders and chest.
It was painful.
Have you ever felt that way?
Mental distress or resistance (such as when you battle temptation or procrastination) often translates itself into physical tension.
However, I recently discovered a weird technique to battle anxiety and switch off stress (SOS) instantly.
The power to switch off stress enabled me to complete my project and relieve the tension.
Plus, I even pressed the switch last night to practice self control with night-time eating.
Here is an important key to know about stress: Most mental distress and resistance is fear-based.
Feelings of anxiety arise from fear of loss or when we imagine pain or discomfort.
That is what was happening to me with my difficult project.
I noticed the painful tension in my head and upper body, plus I noticed my breathing was shallow and my heart was beating faster.
But rather than leave myself in distress, I decided to do something about it.
I pressed the switch. What was it?
I gave myself a hug.
"Come on," you are probably thinking. "It can't be that simple."
But it was. However, I didn't just give myself any old hug; it was a "healing hug."
I dare you to try it right now. Close your eyes and give yourself a firm hug for 20-60 seconds (depending on the severity of your stress) with your non-dominant arm on top, covering your chin with your top arm.
For example, if you are right-handed, hug yourself with your left arm on top. Or if left-handed, put your right arm on top.
Close your eyes and breathe deeply, reassuring yourself that the Lord is with you, comforting you in your distress.
This is a caring, kind thing to do for yourself.
We all need kindness, a reminder that everything is going to be all right!
I don't now about you, but I felt better after my hug – less stressed.
Turns out science has a reason for that.
Many studies have shown that hugs release a hormone and neurotransmitter in the brain called Oxytocin. Oxytocin is also called "the love hormone."
Oxytocin calms down our nervous system.
Isn't it amazing how God gave us something so simple as the ability to hug to benefit others and ourselves?
I think the reason the hug worked was because God designed us to respond to love.
1 John 4:18 says:
There is no fear in love; but perfect love casts out fear, because fear involves torment. But he who fears has not been made perfect in love."
So whenever you feel mental stress, the master strategy to calm down is to tap into God's love.
Otherwise, we keep ourselves in physical torment.
Here are the complete steps to giving yourself a healing hug:
!. Close your eyes and give yourself a firm hug for 20-60 seconds (depending on the severity of your stress) with your non-dominant arm on top, covering your chin with your top arm. It's okay to switch arms if you like.
2. During your hug, breathe deeply into your gut and imagine your heart rate slowing down. I think of this process as like a mother calming a fussy baby, except that it is you calming your fussy body!
3. Speak the following truths from God's word to yourself or meditate on them, knowing that the Lord is comforting you in your distress. He promises to never leave nor forsake you.
"Be still, and know that He is God; I will exalt Him among the nations, I will exalt Him in the earth!" (from Psalm 46:10)

"He who dwells in the secret place of the Most High Shall abide under the shadow of the Almighty. I will say of the Lord, "He is my refuge and my fortress;




My God, in Him I will trust." (Psalm 91:1-2)

"In Jesus, I have peace. In the world I will have tribulation; but I am of good cheer, because Jesus has overcome the world." (from John 16:33)

"The Lord is my helper; I will not fear. What can man do to me?" (from Hebrews 13:6)

"I can do all things through Christ who strengthens me."  (Philippians 4:13)
If you are a stress-reactive person like me, you may need to give yourself a healing hug several times a day to calm your body down.
I do it when I find myself wanting to procrastinate on a project or during the evening when I might be tempted to night eat.
From a calmer position, I can take that first step to do what I want to do or focus on something else rather than eating mindlessly.
The Bible says in Proverbs 4:23 "Keep your heart with all diligence, For out of it spring the issues of life."
For me, healing hugs will be a key strategy to switch off stress.
It's one way to keep your heart with diligence – literally!
Be blessed with health, healing, and wholeness,
Kimberly Taylor
Creator of the Take Back Your Temple program
P.S. When it comes to weight loss, do you often know what you should do but have a hard time doing it?
I struggled with this issue on my own weight loss journey, but I discovered that "Nothing is different until you think differently." – Pastor James MacDonald
The value of the Take Back Your Temple program is that you will learn how to think differently through using Biblical keys to overcome obstacles. You'll discover how to win the Spiritual and mental battle that often causes us to become inconsistent and get off-track on our weight loss journey.
Join a community of like-minded Christians losing weight and keep it off.
Click here to learn more about the Take Back Your Temple program