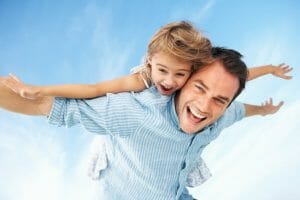 Are you weighed down with concerns? A powerful way to lift your heaviness is to learn how to rejoice in the Lord.
Consider the word "rejoice." If you are feeling weighed down, that means your joy was lost along the way. To lift the heaviness, you need to find your joy again.
Rejoicing means to be so joyful that your positive emotions make you spin around again and again!
You see rejoicing on game shows all the time, like on "The Price is Right." When contestants win a big price, like a car, they jump up and down, shout with arms to the sky, and spin around. They don't care how they look to other people. Joy just takes over their bodies.
Why? Because they see great value in what they have been given and are glad about it!
How much more should we rejoice in the Lord, who has given all good things to us?
We once were lost, but now are found
We were blind but now we see
We were under a death sentence for our sins, but our sins are forgiven
We have been adopted into God's royal family. Rejoice!
What led me to mediate on our universal need for comfort is 2 Thessalonians 2:16-17. The scripture reads:
"Now may our Lord Jesus Christ Himself, and our God and Father, who has loved us and given us everlasting consolation and good hope by grace, comfort your hearts and establish you in every good word and work."
In this translation, the word "comfort" is used. But I also saw that the same word in the original Greek, "parakalesai" is often translated as "encourage." So in many places in the Bible, the word 'comfort' also means 'encourage'!
To meet that need, you must learn how to encourage yourself. While you can sometimes receive encouragement from others, the greatest source of encouragement and strength is through your own prayers. When my heart is heavy with a burden, I take encouragement from the following scriptures:
"Casting all your care upon Him, for He cares for you (1 Peter 5:7)."
"The Lord will perfect that which concerns me; Your mercy, O Lord, endures forever; Do not forsake the works of Your hands (Psalm 138:8 )."
Regarding the second scripture, I know the Lord will never forsake me because He has promised in His Word that He won't:
"Be strong and of good courage, do not fear nor be afraid of them; for the Lord your God, He is the One who goes with you. He will not leave you nor forsake you (Deuteronomy 31:6)."
I trust in that word. So because I know that the Lord is always with me, that He cares for me, and His mercy endures forever, then I have confidence that I can cast my cares upon Him!
Now here are those 3 reasons you can have "spin around joy" in the Lord:
God's name is upon you. You have a new identity in Him. Old things have passed away. Behold, the new has come! You are under covenant with Him. The sooner you realize that, the sooner you receive your new life in Him.
The clearest example to which many of you can relate is marriage. When I married, I took on my husband's last name. I gave up my maiden name and my last name became Taylor. It is one thing that tells others that I am in covenant with Mike Taylor.
Similarly, when you say you are a Christian, then you identify yourself as in relationship with God through our Lord Jesus Christ. Isaiah 54:5 declares "For your Maker is your husband, The Lord of hosts is His name; And your Redeemer is the Holy One of Israel; He is called the God of the whole earth."
Another example to which you can relate is that that your body is called God's temple in 1 Corinthians 6:19-20. When King Solomon built the ancient temple, the Lord made a promise to Him: "For now I have chosen and sanctified this house, that My name may be there forever; and My eyes and My heart will be there perpetually."
Now in that case, the Lord was talking about a mere building. How much is the Lord's name and heart with you and His eyes upon you, who are His temple today?
God's hand is upon you. God didn't use the "hands-on" approach with creating anything except human beings: "And the Lord God formed man of the dust of the ground, and breathed into his nostrils the breath of life; and man became a living being (Genesis 2:7)."
But the Lord did not take His hands off after creating you! He has special love and care for you. He want to lead you and guide you in the way you should go.
1 Chronicles 4:10 records the prayer of Jabez: "And Jabez called on the God of Israel saying, 'Oh, that You would bless me indeed, and enlarge my territory, that Your hand would be with me, and that You would keep me from evil, that I may not cause pain!' So God granted him what he requested."
Why would Jabez ask for the Lord's hand to be with Him? God's hand represents might, strength, divine intervention, and righteousness.
Isaiah 41:10 assures you: "Fear not, for I am with you; Be not dismayed, for I am your God. I will strengthen you, Yes, I will help you, I will uphold you with My righteous right hand.'"
So the Lord promises to strengthen you, to fight on your behalf, and to lead you into right living.
God's plan is upon you. Your birth was not an accident. You were specifically created for such a time as this! Ephesians 2:10 says, "For we are His workmanship, created in Christ Jesus for good works, which God prepared beforehand that we should walk in them."
You are called to love others and operate in the gifts that God has given you to benefit them. When you do that, the Lord is glorified.
You have no need to worry about the future. God promises in Jeremiah 29:11 "For I know the thoughts that I think toward you, says the Lord, thoughts of peace and not of evil, to give you a future and a hope."
So you can have confidence that your future is in the Lord's hands. That is the safest place it can be!
I recommend that you meditate on this today. As you do so, the Holy Spirit within you will leap, sparking that "spin around" joy. If you are having problems with believing God's word, then that quenches the Holy Spirit's ability to work within you.
However, you can pray "Lord, help my unbelief." I believe the Lord will answer your prayer so that you can believe His word enough to put it into action.
May your heart be encouraged in the Lord today and you find strength and comfort in Him. Take your body for a spin. Rejoice!
Be blessed in health, healing, and wholeness,
Kimberly Taylor
Author of the Take Back Your Temple program
www.takebackyourtemple.com
P.S. Are you ready to grow stronger Spiritually and heal emotionally as you reach your best weight? Let the Take Back Your Temple program be your guide. God's way is change from the inside out and once you are changed His way, you are never the same!
Click here to learn more about the Take Back Your Temple program