Once I woke up around 3:00 am and just lay in bed, meditating on Philippians 4:6-7. The scripture says:
Be anxious for nothing, but in everything by prayer and supplication, with thanksgiving, let your requests be made known to God; and the peace of God, which surpasses all understanding, will guard your hearts and minds through Christ Jesus."
After about an hour, My husband Mike woke up too and we ended up having a wonderful conversation about the scripture, discovering that the root word of "anxious" means "strangle."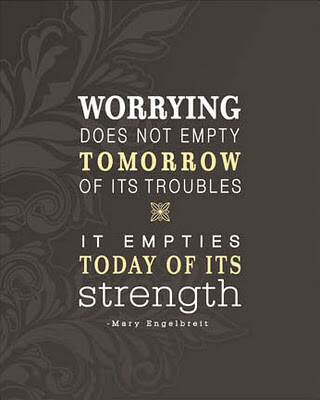 Doesn't that make sense when you consider how anxiety makes you feel?
When I've felt anxious, my throat felt constricted. It was like someone had their hands around my throat, cutting off my ability to breathe deeply.
And of course, if you're not getting all the oxygen you need, it's hard to think rationally. Every challenge seems magnified.
So anxiety is not a small thing.
Thankfully, the Lord doesn't just tell us, "Don't be anxious" and leave it at that. He tells us what to do when we are anxious.
The following article gives you 3 things to do to deal with anxiety. Little did I know that later on that day, I'd have the opportunity to practice what I teach! But more about that story later.
Here are the 3 things according to Philippians 4:6-7:
1. Pray. Have a conversation with God about the situation that is making you feel anxious.
2. Supplication. Ask God for what you need according to His Word. Two things I typically ask for when anxiety tries to come upon me are:
Wisdom to deal with the situation according to James 1:5-8. However, according to this scripture, you must ask in faith that you will receive it: "If any of you lacks wisdom, let him ask of God, who gives to all liberally and without reproach, and it will be given to him. But let him ask in faith, with no doubting, for he who doubts is like a wave of the sea driven and tossed by the wind. For let not that man suppose that he will receive anything from the Lord; he is a double-minded man, unstable in all his ways."
Peace according to John 14:27: "Peace I leave with you, My peace I give to you; not as the world gives do I give to you. Let not your heart be troubled, neither let it be afraid."
This means that I can choose to let my heart be troubled and afraid or I can refuse to give the situation power to dictate the conditions of my heart. I want God's peace to guard my heart and mind through Christ Jesus in every situation.
3. Thanksgiving. Strive to maintain a thankful heart rather than one of complaint. Whatever you focus on tends to magnify in your heart and mind, giving it power to control your emotions.
It's like a magnifying glass. When you are anxious, what are you directing your magnifying glass to – the situation or to God?
Thanksgiving is a way to direct your attention to God, where it belongs. After all, that is where you want to draw power and strength from to help you deal with the situation, right?
I had an opportunity to practice this guidance yesterday. Mike and I went to a local park and I was hitting some golf balls. I thought I put my car key into my pocket. But when we got ready to leave the park, I patted my pocket to confirm the key was there – and it wasn't.
Hello, anxiety.
But then, I remembered my meditation from that morning and resolved to put it into action. I did not want anxiety strangling me!
Mike and I prayed, asking the Lord to show us where the key was. Then we started retracing my steps, searching in the grass for my key.
With every step, I affirmed my trust in God and asked for His peace and wisdom. I refused to allow my body to get tense and dismissed "What if" thoughts, which fuel anxiety.
After a while, Mike told me that he heard Lord say, "The key never made it to her pocket." He decide to go back and search the trunk of the car, which I had been in to get the balls.
However, I continued to check the grass. Then I heard Mike yell some wonderful words: "I found it!"
Apparently when I leaned into the trunk, I put the key down to get the balls and never put it into my pocket as I thought.
Later on, Mike asked the Lord why He didn't reveal the answer sooner.
Although Mike didn't get an answer to his question immediately, he heard the Lord say in His still, small voice this morning: "I did."
Then Mike revealed that the Lord told him earlier to check the trunk, but he dismissed the thought instead. He only acted when he heard the Lord speak the 2nd time. The problem would have been resolved sooner if we had only listened and heeded the Lord the first time!
Wow. We are amazed at how the Lord perfects His people's concerns according to His word – both great and small.
If you are feeling anxious about anything, then use the scripture Philippians 4:6-7 as your prescription.
It may take time before the effects are felt, but do it anyway. It is Spiritual medicine. You will see anxiety eliminated at the source!
Be blessed in health, healing, and wholeness,
Kimberly Taylor
Creator of the Take Back Your Temple program
P.S. Are you ready to cross over any speed bumps on the way to your best weight and better health? The Take Back Your Temple program will be your guide.
3 John 1:2 says,
Beloved, I pray that you may prosper in all things and be in health, just as your soul prospers."
If you are excited about your future and know that your health habits are supplying you with energy to maximize your present and future, then you don't need the Take Back Your Temple program.
You are already on a good road.
However, if you are sensing that your current habits are standing in the way of your better future, then that is where I can help. I can help you uncover those roadblocks that are standing in the way of reaching your best weight.
Come join me on the journey to better health in the Take Back Your Temple program, starting today. Let's go farther – together.