Mike and I sometimes look for Spiritual lessons in the movies we watch. The other day, we watched a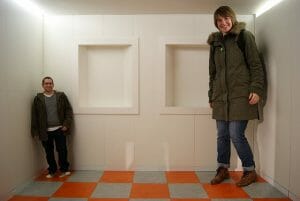 movie on Amazon Prime called, "Temple Grandin." Based on a true story, the movie is about an autistic woman, her struggles to overcome her social limitations, and eventual triumph as a innovator in cattle handling design.
At one point in the movie, it shows Temple as a teenager having to solve a scientific problem dealing with optical illusion. As I watched the movie scene, a Spiritual lesson came to me about how our problems can be magnified or shrunk depending on how we look at them.
Take a look at this 5-minute clip from the movie below and then I will share what God showed me about how you can take the right perspective about problems. With the right perspective, you can access the hidden treasures of knowledge and wisdom needed to overcome them through Christ Jesus.
Did you notice that the items in the room appeared either bigger or smaller, depending on the room's construction surrounding them? Your brain assesses the size of your problems in a similar way.
If you see your resources as small, then your problems are magnified by comparison.
If you see your resources as large, then your problems are smaller by comparison.
As a Christian, the second viewpoint is the right perspective. Why? Because the resources you have in Jesus are limitless! You have His wisdom inside of you through the Holy Spirit.
In John 16:13-15, Jesus says:
However, when He, the Spirit of truth, has come, He will guide you into all truth; for He will not speak on His own authority, but whatever He hears He will speak; and He will tell you things to come. He will glorify Me, for He will take of what is Mine and declare it to you. All things that the Father has are Mine. Therefore I said that He will take of Mine and declare it to you."
One of our biggest fears in dealing with problems is that we won't be able to handle them. But as a Believer, you don't have to handle your problems alone! The Holy Spirit is your Comforter and your Friend.
Your main job is to seek what He has to say to you daily because He has the solution for whatever problem you face.
To gain the right perspective, it is wise to construct a mental "faith room" around your problems. This room is constructed of reminders of God's power and presence in your life. In this way, you will have confidence that you can handle everything that comes your way with His help:
Isaiah 41:10
"Fear not, for I am with you; Be not dismayed, for I am your God. I will strengthen you, Yes, I will help you, I will uphold you with My righteous right hand.'"
Romans 8:28
"And we know that all things work together for good to those who love God, to those who are the called according to His purpose."
Colossians 2:2-3
"that their hearts may be encouraged, being knit together in love, and attaining to all riches of the full assurance of understanding, to the knowledge of the mystery of God, both of the Father and of Christ, in whom are hidden all the treasures of wisdom and knowledge."
1 Corinthians 2:12
"Now we have received, not the spirit of the world, but the Spirit who is from God, that we might know the things that have been freely given to us by God."
Proverbs 16:16
How much better to get wisdom than gold!
And to get understanding is to be chosen rather than silver.
James 1:5
If any of you lacks wisdom, let him ask of God, who gives to all liberally and without reproach, and it will be given to him.
Jesus makes us a promise in Matthew 7:7-8:
Ask, and it will be given to you; seek, and you will find; knock, and it will be opened to you. For everyone who asks receives, and he who seeks finds, and to him who knocks it will be opened."
Decide to become a faithful Asker, Seeker, and Knocker. Don't give up until you get your answer! When you get your answer, then do what the Lord tells you to do.
Often, people ask the Lord for a solution to a problem and when He gives it, they don't like what He tells them to do. So they won't do it. This reminds me of an old joke:
A man is working on his roof, slips and begins sliding toward the edge. He grabs hold of the roof edge and is hanging on for dear life. He looks heavenward and says, "If there is anybody up there who can help, please help me!"
The Lord answers the man: "I am here to help. Just let go. I will catch you."
The man pauses and takes a deep breath. Then he says, "Is there anybody else up there who can help me?"
Again, hearing the answer is only one part of the solution. Putting the answer into practice is the most important part.
When you start putting God's answers into practice, your problems will be shrunk to manageable size and the Lord will be magnified!
Kimberly Taylor
Creator of the 'Take Back Your Temple' program
https://takebackyourtemple.com/program
P.S. Are you ready to grow stronger Spiritually and heal emotionally as you achieve your ideal weight? Let the Take Back Your Temple program be your plan. God's way is change from the inside out and once you are changed His way, you are never the same!
Click here to learn more about the Take Back Your Temple program