In the TBYT program, the last step is "Expect Tests and Be Prepared (Step 5)."
In all of my years on this journey, I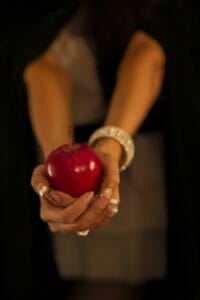 have learned that whenever you decide to do the right thing, a situation will occur to test your resolve.
I resolved on December 11, 2003 that I want to live as a fit, healthy person.
Well, last night a test came for which I was not prepared.
It opened up a lot of emotional turmoil, even to the point where I got angry with my husband, Mike.
An apple cobbler started everything!
It was the smell of temptation.
Through that experience, I learned for the thousandth time that when your natural strength fails, God's grace is more than sufficient to give you supernatural strength to persevere.
Here is what happened: Mike decided to bake an apple cobbler. Knowing that I've had past issues with sugar addiction, he asked me if baking the cobbler would bother me.
I said "no" because I did not think it would. I was wrong.
As the cobbler baked, the smell of apples and cinnamon filled the house. I started feeling that familiar tension headache that comes when I have sugar cravings. I haven't felt that in a long time.
I was in trouble.
You see, the tension headache was a physical sign of a conflict playing out in my brain. Whenever you have a mental conflict, I recommend you check your body.
I'll bet you have a sign that manifests itself in your body too.
It may show up as a tension headache, a tightness in your chest, or queasiness in your stomach. But a physical sign will appear that is uncomfortable for you.
When I have a sugar craving, it means that a memory has triggered my Dopamine Reward Pathway (DRP). The DRP starts anticipating the pleasure I had before from eating apple cobblers.
The problem is that for me, eating sugar leads to food bingeing. If I ate the cobbler, my brain would demand more and more of it.
Not only would I be craving more of the cobbler, but once into that bingeing cycle, it would make me want to eat more in general!
Not good.
So the smell of the baking dessert triggered all of these memories of my past when I binged my way up to 240 pounds.
Back then, the tension headache (pain) was a signal to eat. It was the only way I knew to get rid of that pain.
But last night I recalled all of the health problems I had with that choice.
I remembered:
The shortness of breath
Chest pain
Joint aches
High blood pressure
Depression
Anger at my perceived lack of self-control.
I remembered the guilt and shame.
I started thinking "Oh no, I am not going back there again."
Then, Mike interrupted my emotional turmoil and pain to ask me a question. What did he do that for?
I snapped at him. I conveniently forgot that he had asked me if it was okay to bake the cobbler in the first place!
I was the one who told him that I could handle it.
I was angry because reality was proving that I was wrong.
I was fuming, "Why did he do this to me?"
Then God's Spirit arrested me. The Holy Spirit showed me that the enemy was trying to take advantage of the situation to cause conflict between Mike and me.
So I closed my eyes and took deep breaths. My head was still pounding.
But I pressed into the Lord and started praying for His comfort and peace. And He proved this scripture true:
And God is able to make all grace abound toward you, that you, always having all sufficiency in all things, may have an abundance for every good work (2 Corinthians 9:8)."
When I got calmer, the Holy Spirit told me to let Mike know about my thoughts and the emotions raging inside of me.
After I cleared the air with him and apologized, I asked him not to bake the apple cobbler again.
He balked, "You mean never? What if you are out of the house, like out of town?"
I considered it. It was really the smell of the baking dessert that bothered me, causing the tension headache.
If he baked it with me out of town, covered it with aluminum foil and put it in the back of the refrigerator so I didn't have to look at it when I got back, I would be fine.
So we decided that he could bake a cobbler when I am out of town and don't have to endure the smell.
Then Mike asked what else he could do to help me. I told him nothing, but I needed to get rid of that smell. I told him that I had to bring out the Lysol spray. He doesn't like that smell, but he was willing to endure that for my sake.
I sprayed the Lysol and it eliminated the apple cobbler smell nicely.
The experience really highlighted the battle between emotions and logic when it comes to making wiser health decisions.
My emotional side wanted to eat the baking dessert but my logical mind thought about the consequences surrounding that.
Back in the day, my emotions would have won this internal fight easily. Once I got the tension headache from the smell of the baking dessert, all I knew to get rid of it and eliminate the mental conflict was to give in to the craving and eat the apple cobbler.
But I did not do that.
I have learned that as long as I focus on the person I want to be (fit and healthy) and keep the temptations out of my sight so they don't activate my DRP, I can suppress that craving. Now I know I also need to eliminate temptation's smell!
Here is another lesson I learned from this experience: I have to fight the association of food with love.
I had an irrational thought in the past: If a person offered me food and I said "no" to them, then I risked loss of affection from them.
Now I know logically that a person's love for me is not tied to me always saying "yes" when other people offer me food.
Yet I believe the enemy plays on the fear of losing love, companionship, or other people rejecting you.
He can put lying thoughts in your head that if you don't eat what they eat, cook what they want you to cook, or buy what they want you to buy, then your family or friends won't love you anymore.
Wow. With each passing year, I learn this weight loss journey is about so much more than diet and exercise!
It affects the core of the person you are and the person you want to become.
For me, the life and person I want to become is found in this hope:
Now the Lord is the Spirit; and where the Spirit of the Lord is, there is liberty. But we all, with unveiled face, beholding as in a mirror the glory of the Lord, are being transformed into the same image from glory to glory, just as by the Spirit of the Lord (2 Corinthians 3:17-18)."
According to this scripture, God's desire is that His children be transformed into the image of Jesus Christ from glory to glory. That means choosing to restrict some things now so that you aren't constricted later.
All things are lawful for me, but all things are not helpful. All things are lawful for me, but I will not be brought under the power of any (1 Corinthians 6:12)."
I feel like last night's pain made me stronger, even though the experience did not feel good.
It felt like lifting a heavy weight off the ground in which every muscle in my body was straining to overcome.
But I thank the Lord for it happening. What the enemy meant for bad, God has worked it out for our good!
Don't allow pride to stop you from asking God for help in these situations, no matter how small you think they are.
The Lord tells you in Deuteronomy 4:7 that you may call upon Him for whatever reason.
God is standing by to listen and give you the grace needed for whatever situation you face. So be sure to make that daily call as needed and He will work every situation out for your good as well!
Be blessed in health, healing, and wholeness,
Kimberly Taylor
Author of the 'Take Back Your Temple' program
https://takebackyourtemple.com/program
P.S. Are you ready to grow stronger Spiritually and heal emotionally as you achieve your ideal weight? Let the Take Back Your Temple program be your plan. God's way is change from the inside out and once you are changed His way, you are never the same!
Click here to learn more about the Take Back Your Temple program