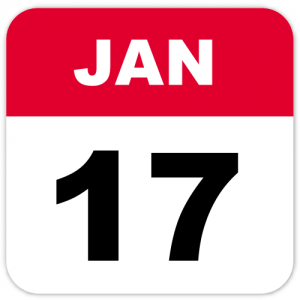 Are you still on track with your weight loss and health goals for this new year?
It's January 17 today!
This is important because most New Years resolutions made on January 1 are forgotten by January 17. In a previous article, I wrote about how to prevent that from happening to you.
Let's discuss how to succeed beyond January 17. The Biblical mindset is from Hebrews 4:13:
 And there is no creature hidden from His sight, but all things are naked and open to the eyes of Him to whom we must give account."
As Believers in Christ, our lives will shine far beyond this world – all the way into eternity. Ultimately, we are accountable to God for how we live.
Think about this: Doesn't it seem like just yesterday when you were 17 years-old? And yet, here you are today on January 17, in our current year.
What happened in all of the intervening years?
Your life passed in the small, ordinary days of your life – most of which escaped your notice.
A situation happened to me when I was 17 years old that illustrates this principle. It shows the secret of consistency.
At that age, I took a special literature class. It was quite a large class, maybe 30 students in all. Our teacher decided to give us an assignment for extra credit. We had three choices as to which assignment to do:
Memorize and recite a 16-line poem to receive an 'A' grade
Memorize and recite a 12-line poem to receive a 'B' grade
Memorize and recite a 4-line poem to receive a 'D' grade
She gave us a week to fulfill the assignment. On the appointed date, she asked each student to stand up and recite his or her chosen poem.
Out of the 30 students, can you guess how many chose to do the 'A' poem?
1 student.
Can you guess how many students chose to do the 'B' poem?
1 student.
The other 28 students chose to do the 'D' poem assignment!
That experience has stayed with me as the 1 student who memorized the 'A' poem.
After I finished reciting it, the other students applauded me. However, that just made me sad.
The reward was obvious; why had the other students chosen to only strive for a 'D'?
While I didn't understand it at the time, now I think the other students looked at the 16 lines and decided that the task was too big and too hard to do.
So they didn't do it.
But I believe the Lord had me look at the task differently. I did not focus on learning all 16 lines at once.
Instead for that week,  I memorized just 3-4 lines every day. I put the power of consistency to work for me.
When the assignment was due a week later, I had memorized all 16 lines!
The other students probably waited until the night before the test, then crammed to memorize the 4 lines of the 'D' poem.
Do you see the difference? It was the same task; I just repeated that task multiple times during the week.
The late motivational speaker Jim Rohn gave my favorite definition between success and failure:
Failure = a few errors in judgment practiced every day
Success = a few simple disciplines practiced every day
The key to both of these conditions is the phrase 'practiced every day.' It is those small, extra efforts that you practice every day that will decide whether this year will be different than last year.
Grand gestures, such as New Years' resolutions, do not bring permanent change.
What does bring permanent change is redeeming your days, making small wise choices and letting them compound over time.
So embrace the challenge of each day, knowing that your success is going to come one day, and one wise choice at a time.
Be blessed with health, healing and wholeness,
Kimberly Taylor
Creator of the Take Back Your Temple program
P.S. When it comes to weight loss, do you often know what you should do but have a hard time doing it?
You are not alone!
I struggled with this issue on my own weight loss journey, but I discovered that "Nothing is different until you think differently." – Pastor James MacDonald
The value of the Take Back Your Temple program is that you will learn how to think differently through using Biblical keys to overcome obstacles. You'll discover how to win the Spiritual and mental battle that often causes us to become inconsistent and get off-track on our weight loss journey.
This is "can't-miss" information if you are ready to succeed permanently and join a community of others doing the same.
Click here to learn more about the Take Back Your Temple program