When going through challenges in life, Bible verses for hard times can help! Here are 9 verses that can bring patience, comfort, and hope in the midst of trials:
Isaiah 41:10
Isaiah 46:4
John 16:33
James 1:2-5
Hebrews 6:11-12
Hebrews 12:1-2
Romans 8:18
2 Corinthians 4:7-10
1 Peter 4:12-13
Questions People Often Ask about Hard Times
Let's take a look at the questions people often ask as they are going through hard times and how a Biblical perspective can give you peace and stability.
Our ultimate goal is to finish our race well in the Lord, knowing He is with us every step of the way.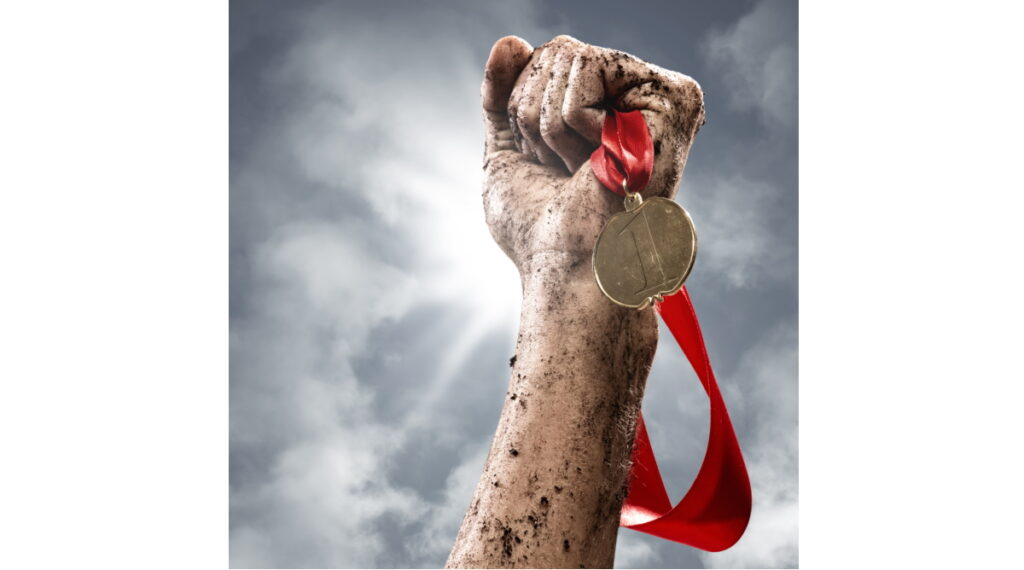 What does God say about hard times?
If anyone knows about what it takes to endure hardships on Earth, it is Jesus Christ! After all, our Savior faced pain and struggle like no one ever has. He is our compassionate High Priest.
The Lord never said that we would have an easy life; on the contrary, He said that we would face tribulation:
These things I have spoken to you, that in Me you may have peace. In the world you will have tribulation; but be of good cheer, I have overcome the world."

– John 16:33
Although God removes trouble out of our paths at times, He walks with us through trouble at other times, supplying what we need to overcome.
While we may not always like that second scenario, it is one way we come to know and rely upon God, deepening our relationship as we walk with Him day-by-day.
During hard times, the Lord promises to do the heavy lifting, carrying us through:
Even to your old age, I am He, And even to gray hairs I will carry you! I have made, and I will bear; Even I will carry, and will deliver you.

– Isaiah 46:4
In addition, enduring hard times is part of our sanctification – to make us more Christ-like.
Because Jesus Christ understands our challenges and difficulties, He gives us peace and assures that we will overcome through Him. In Him, we have the victory in every storm!
He is a present help in the day of trouble and invites us to His throne of Grace through prayer, where we can find mercy and grace to help us in time of need.
Here are some other truths the Lord reveals to us about hard times:
The Lord is with Us in Trouble
Have I not commanded you? Be strong and of good courage; do not be afraid, nor be dismayed, for the Lord your God is with you wherever you go."

– Joshua 1:9
The Lord never leaves us alone in trouble. If God be for us, who can be against us?
Trials Can Produce Spiritual Fruit in Us

My brethren, count it all joy when you fall into various trials, knowing that the testing of your faith produces patience. But let patience have its perfect work, that you may be perfect and complete, lacking nothing .

– James 1:2
The end product of patience is perfection and completeness in Christ. Trials test our patience, and as we pass the test, patience is produced. Patience is a fruit of God's Spirit; the Lord is glorified through the Spiritual fruit we bear. We want others to taste and see that He is good through us!
A Reward Awaits Us
For I consider that the sufferings of this present time are not worthy to be compared with the glory which shall be revealed in us."

– Romans 8:18
We are assured that the trouble we experience is only temporary and the glory revealed in us will be worth it. As believers in Jesus Christ, we are assured of eternal life in Him and that we will receive the Crown of Life, which belongs to those who endure to the end.
"Bible Verses for Hard Times"
Faithful Forerunners Encourage Us
Therefore we also, since we are surrounded by so great a cloud of witnesses, let us lay aside every weight, and the sin which so easily ensnares us, and let us run with endurance the race that is set before us, looking unto Jesus, the author and finisher of our faith, who for the joy that was set before Him endured the cross, despising the shame, and has sat down at the right hand of the throne of God (Hebrews 12:1-2).
Finally, through Jesus Christ, we are part of God's family; Hebrews 11 is full of verses about faith that give us hope in the midst of our troubles. Because we can look to the example of faithful fore-runners, we can encourage ourselves that "If they can endure to the end, so can I!"
Why does God allow hard and painful circumstances?
We live in a fallen world; mankind's disobedience to the Father ushered sin into the world, bringing pain and suffering along with it (see Genesis 3). Sin damages the person engaged in it as well as others.
However God has promised to judge all evil and bring restoration at His appointed time.
God sent Jesus Christ to pay our sin debt so that we could be restored to relationship with the Father and live in newness of life in Him. He desires salvation for all people and each one come to the knowledge of the truth.
Much like silver is refined in fire, hard circumstances refine our hearts and produce Spiritual fruit. Admittedly, that does not always feel good!
As disciples in Christ Jesus, our goal is to walk as He walked, becoming more like Him. We cannot do this in our flesh, however we can through God's Spirit of power because we have Christ in us, the Hope of glory!
We are God's ambassadors on Earth to share the good news of the gospel and grow into Spiritual maturity through discerning between good and evil.
Enduring times of trouble benefit us as well as others. We are meant to comfort others with the comfort we have received from the Lord.
We pray for others who are suffering. We extend love, care, and concern to them. We walk with them through their trials, just as our Lord walks with us.
Blessed be the God and Father of our Lord Jesus Christ, the Father of mercies and God of all comfort, who comforts us in all our tribulation, that we may be able to comfort those who are in any trouble, with the comfort with which we ourselves are comforted by God. For as the sufferings of Christ abound in us, so our consolation also abounds through Christ."

– 2 Corinthians 1:3-5
What is a Good Bible verse for Encouragement?
A good Bible verse for encouragement is Isaiah 41:10:
Fear not, for I am with you; Be not dismayed, for I am your God. I will strengthen you, Yes, I will help you, I will uphold you with My righteous right hand.'"
Verses about strength can help us overcome trials through grace with boldness!
God's grace helps lift each burden, provides refuge and rest for your soul and drives out the spirit of timidity.
Because God is with us in turbulent times, we have no need to fear! In Isaiah 41:10, God promises that He will:
Strengthen us
Help us
Uphold us
Think of the word "encouragement" as "filled with courage." The truth that God is with you fills you with courage because no challenge is bigger than the God we serve!
How do you Keep Faith in Difficult Times?
Here are some faith scriptures that will help you go through difficult times. To revive "tired faith," you need wisdom from God's word, plus hope, patience, and joy from walking in His Spirit:
So then faith comes by hearing, and hearing by the word of God.

– Romans 10:17
Check to ensure that you are "feeding" your faith regularly through hearing God's word. If worldly messages occupy your thoughts, then worry, anxiety, and depression can try to overtake you.
Because negative messages are the default of this world, then you must make an effort to override the default, which God's word empowers you to do.
If any of you lacks wisdom, let him ask of God, who gives to all liberally and without reproach, and it will be given to him."

– James 1:5
When you do not know what to do when you face challenges, ask God for wisdom. Prayer is two-way communication; you speak to God and listen as He speaks to you. Wait for His answer patiently.
"Bible Verses for Hard Times"
And we desire that each one of you show the same diligence to the full assurance of hope until the end, that you do not become sluggish, but imitate those who through faith and patience inherit the promises."

– Hebrews 6:11-12
Use Godly wisdom to take care of your body as His temple because many times we make bad decisions when we are physically tired. The Spirit may be willing but the flesh is weak. So be sure to practice good health stewardship each day.
But we have this treasure in earthen vessels, that the excellence of the power may be of God and not of us. We are hard-pressed on every side, yet not crushed; we are perplexed, but not in despair; persecuted, but not forsaken; struck down, but not destroyed— always carrying about in the body the dying of the Lord Jesus, that the life of Jesus also may be manifested in our body."

– 2 Corinthians 4:7-10
Because we have God's power within us, we have the ability to break down every stronghold in times of trouble. His power gives us strength to do what we can't do on our own.
Beloved, do not think it strange concerning the fiery trial which is to try you, as though some strange thing happened to you; but rejoice to the extent that you partake of Christ's sufferings, that when His glory is revealed, you may also be glad with exceeding joy."

– 1 Peter 4:12-13
Difficult times do not come to define us but refine us. We are not going through any challenge that is greater than what Jesus Christ went through.
Because Jesus is the author and finisher of our faith, let's look to Him to provide what we need to overcome during hard times!
"Bible Verses for Hard Times"
Kimberly Taylor
Author of the Take Back Your Temple program
P.S. Are you struggling with the challenges of emotional eating? Many people with eating issues know what to do but have a hard time doing it. That is where you need a community that supports each other!
In the Take Back Your Temple program, you will get all the support you need to overcome the Spiritual and emotional battles of weight loss, connected in our Overcomers Christian community.
Click here to confirm the Take Back Your Temple program is right for you.