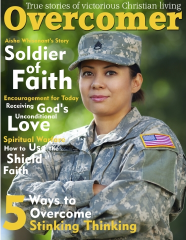 What do you do when thoughts of failing overwhelm you? I faced that yesterday. I launched a project on Kickstarter yesterday for a new magazine I'm creating called "Overcomer," but I didn't get the pledges I had hoped for on the first day.
Discouraging thoughts raced through my mind: "Why did I put myself out there like this?" "Did I make a mistake?" and "What if I fail?"
During my weight loss journey, I had to battle discouragement many times. You start a plan with high expectations, but then after a week of hard work, you get on the scale and found that you've "only" lost a pound. Then you are tempted to just give up. After all, your work isn't working!
Here's what I would say to you: "Perhaps things aren't moving as fast as you hoped, but at least you are moving in the right direction!"
That is certainly better than the millions of people who are unhappy with their weight or have a dream in their hearts, but are too scared to do something about it. They are afraid of facing failure.
While I didn't reach my expectations on Kickstarter yesterday, I have decided that I'd rather deal with the pain of failure than the pain of regret.
Why? Because at least if I attempt something big and fail, then I have the satisfaction of knowing that I had the courage to ACT on what I believed. Here is a newsflash: Failure is not fatal!
Yes, it stings at the beginning, but failure is a great teacher. You learn what didn't work. Then, you have the choice to keep adjusting your actions until you find what does work or you decide that the goal isn't important enough to you to try again.
On the other hand, regret means that you've condemned your dream to death. Thoughts of "What if…" haunt you. You know that you could become something more, but you just sit on your potential. It's like the man in the parable of the talents in Matthew 25:14-30.
The Lord gave him something to work with, but his ingratitude led him to devalue it and bury it. It was a selfish act; that buried talent couldn't help him, nor anybody else!
If I had to choose what man calls me, I'd rather be branded a failure than a coward.
In the end, the only opinion that matters is God's opinion of you and your opinion of yourself. But I'm not wasting any time worrying about man's labels. I am just getting on with the business of doing what I feel God is calling me to do.
Thank you so much for taking time to read this. I hope you use this message to pursue your own dreams and never allow the possibility of failure to discourage you again.