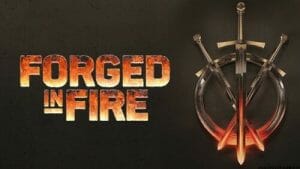 My husband Mike loves a reality TV show on the History Channel called "Forged in Fire."
The show is about a blacksmith competition.
At the beginning of the show, the judges tell each blacksmith what type of weapon they are to make.
Then the blacksmiths go to work. They sketch out their unique vision of the weapon they will create, following the judges' guidelines.
Next, they are given a hunk of metal. They assess the metal carefully to determine what they've got to work with.
Then, they subject that metal to intense heat, pounding it and shaping it until it becomes the weapon they envisioned.
The blacksmiths' skill is amazing.
We were watching the show the other night and the Lord spoke the following words to me:
"Your daily decisions are where your future is forged."
I've seen the truth of this principle in my own life; if you want to change your future, you must change something you do daily.
Let's face it: Hardship happens to us all.
It is a heart decision about whether you will use life's "heat" to become fit for the Master's use – or use your energy trying to run from it.
So how will you respond when life's heat comes?
Will you suffer a meltdown, remaining a hunk of metal without a purpose?
Or are will you seek the Lord for His vision of your future – one with a purpose?
Unfortunately, many people just pound away through life daily with no purpose at all!
Will your daily decisions then shape your life according to that purpose?
While each metal strike on the show is not perfect, each one has a purpose.
Heed the words in 1 Corinthians 3:9-16:
For we are God's fellow workers; you are God's field, you are God's building. According to the grace of God which was given to me, as a wise master builder I have laid the foundation, and another builds on it. But let each one take heed how he builds on it.

For no other foundation can anyone lay than that which is laid, which is Jesus Christ.

Now if anyone builds on this foundation with gold, silver, precious stones, wood, hay, straw, each one's work will become clear; for the Day will declare it, because it will be revealed by fire; and the fire will test each one's work, of what sort it is.

If anyone's work which he has built on it endures, he will receive a reward. If anyone's work is burned, he will suffer loss; but he himself will be saved, yet so as through fire."
As I wrote this article, the song "Way Maker" came to mind. The Lord wants to make something beautiful out of our lives, even in the midst of hardship.
Will we let Him?
As God's child, it is wise to keep your vision of eternity in mind.
Make sure that your daily decisions are forging a future that endures.
Be blessed in health, healing and wholeness,
Kimberly Taylor
Creator of the Take Back Your Temple program