A young man needs healing in his mind. Having suffered horrific sexual abuse at the hands of his father, he developed mental illness. " Heal my mind, Lord!'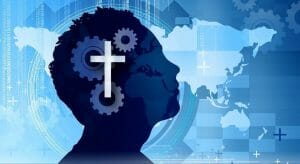 He turned to drugs to soothe the pain. Then he turned to crime to support the drug habit.
He spent time in prison.
Jesus reached out to him in the darkness. And the young man got saved.
He has remained clean from illegal drugs. He is on medication and receiving therapy to stabilize the mental illness.
He is working to rebuild his life.
Even though the young man is a new creation in Christ Spiritually, his mind still needs healing.
The same pattern of thinking the enemy kept him in bondage to in the past threatens to enslave his future.
He needs help. Many of us need help with our minds too.
In the following article, I will share what is needed to bring healing and wholeness to our minds so that we can receive the fullness of God's blessings.
We will cover the following:
Why Renewing our Minds is Important
In many ways, I believe that our minds are like Jello.
Imagine a pan of red gelatin that is set in the refrigerator. It cools and solidifies.
Now imagine someone takes a syringe of hot water and uses it to draw a line in that Jello. You've now got a track in the Jello.
I believe that something similar happens in our brains. Many of us have developed specific ways of thinking to handle pain, fear, and stress.
We think that same way for so long that a neural "track" is formed in our brains – like the track in the Jello.
Our brains learn the pattern so well that whenever we face painful, fearful, or stressful situations, those same patterns of thought run automatically along the old track.
The more the track is used, the wider and deeper it gets!
But there is hope to get free from that and remove the old tracks.
Scripture Meditation on Healing our Minds
Romans 12:2 gives us this direction:
And do not be conformed to this world, but be transformed by the renewing of your mind, that you may prove what is that good and acceptable and perfect will of God."
The Lord would not have said that transformation is possible if it were impossible for us.
That would make Him a liar, which He is not.
The below scriptures are among my favorites regarding healing the mind:
"He sent His word and healed them, And delivered them from their destructions."

– Psalm 107:20
"Behold, I will bring it health and healing; I will heal them and reveal to them the abundance of peace and truth."

– Jeremiah 33:6
Healing is found in God's word because through His word we find an abundance of peace and truth. We come into agreement with Him regarding our identity, meaning, morality, and destiny.
This issue is not just about mental agreement but a heart conviction!
However, this is not a "one and done" prescription in which you read it once.
Think of meditation on God's word as savoring a good meal. You want to ensure you chew on it until you get all of the goodness out of it!
That means reading it slowly, in different translations (Biblegateway.com is one of my favorite websites for that), and seeking the Lord for understanding and application.
Consider each word in the scriptures. Look up the definitions of any words that seem to stand out for you.
Your goal is to get the understanding, believe God's word and make it part of you. " Heal my mind, Lord!"
Keep these 3 words in mind: Hear -> HEED -> Healed . Out of the three words, heed is most important, which is do what the word of God says.
That is how you will build new neural tracks in your brain. The old tracks will fade in time through lack of use.
The " Heal My Mind" Prayer
With these scriptures in mind, here is a "Heal My Mind, Lord" prayer for those who are struggling in their minds today:
Gracious Heavenly Father,
How grateful I am that You are my Father! Even though I was born in sin and shaped in iniquity through my natural parents, You did not leave me in that wretched condition.
You not only saw my pain, You felt my pain. You heard my cry. You looked upon me and You acknowledged me.
You sent a Savior to deliver me from my sin sickness and to heal the brokenness left behind. But You didn't stop there.
When I received Jesus as my savior, You gave me the right to become Your own special child. You sent your Holy Spirit to live inside of me. Sin does not rule me anymore. You do. You are the King of Kings and there are none who can stand against your power.
Thank you for Jesus! You promised that You heal the brokenhearted and bind up their wounds. I submit my broken heart to You, Jesus, for healing.
I submit my fear-filled, anxious, and confused mind to You for healing.
I've been stuck in my old ways of thinking for so long that it feels like my mind has become concrete and cannot change.
But the devil is a liar! With God, all things are possible! This situation is a thing so my healing is possible.
I announce to you, enemy, that you no longer have the right to occupy my mind. You have squatted inside of the fear and emotional centers of my brain long enough.
Get out! Today is your eviction notice.
I have the mind of Christ and there is no room for you anymore.
You ruled my life long enough! You were a cruel, heartless dictator who was only concerned with keeping me in bondage through fear and intimidation.
You whispered lies to me that separated me from others, interfering with my ability to love them without fear and selfish motives.
I shall install new software in my mind that contains God's word so that I may operate according to His word and experience His blessings.
His blessings include love, joy, peace, patience, kindness, goodness, faithfulness, and self control. These are part of my inheritance and my destiny is to dwell in them richly – now, in this life.
This new software will overwrite those old thinking patterns and clear away those thorns and thistles that make it hard for me to think logically.
I hear the Lord saying to me: "Behold, I will do a new thing, Now it shall spring forth; Shall you not know it? I will even make a road in the wilderness And rivers in the desert."
My mind is the Lord's territory now and I will no long cede it to the enemy without a fight.
Whenever those old patterns of thought try to reassert themselves into my mind, I will calm my fear through meditating on God's love. His perfect love casts out fear.
I will remind myself of Zephaniah 3:17 and make it personal:
The Lord my God in my midst, The Mighty One, will save; He rejoices over me with gladness, He quiets me with His love, He rejoices over me with singing."
Quiet my mind with your songs, Lord.
My Father's songs over me shall become a song of worship in my mind and heart. I shall sing and I shall celebrate my deliverance!
Thank you Lord that You never leave me nor forsake me. You will walk with me through every step of this life's journey until I come home to live with You forever.
I have ears to hear Your voice. I know You and I follow You. A stranger I will not follow. The enemy is a stranger to me.
Help me to choose foods that literally are food for thought – foods that help me think clearly, not those that hijack my brain and make me emotionally unstable.
I realize when I choose unhelpful foods, I tend to act impulsively, running back to old sins and old habits.
So give me strength to realize that, although I can eat anything, I shouldn't eat everything. I choose to eat foods that support a sound mind.
I am thankful, Lord, for the positive changes to come – choices that glorify You.
With my mind, I will worship You, serve You and will be a willing vessel to tell the story of how you delivered me so that I can be an inspiration to others!
Be Blessed with Health, Healing, and Wholeness,
Kimberly Taylor

Author of the Take Back Your Temple program
P.S. Do you struggle with overeating sugar? If so, you are not alone!
Overcoming sugar addiction was a key factor on my weight loss journey; I lost 85 pounds and dropped from a size 22 to an 8.
In our 14-day Sugar Detox Challenge online course (inside the Take Back Your Temple program), you'll get the same success strategies and support to gain peace in your eating habits and achieve lasting weight loss.
Click here to learn more about the Take Back Your Temple program.
"Prayer for Weight Loss"