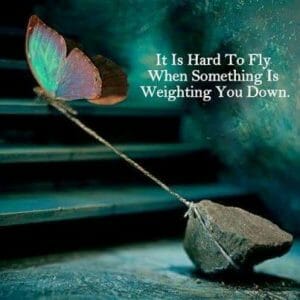 I've discovered that the story you tell yourself about emotional problems is what makes the difference between staying stuck and moving forward.
What do I mean?
Within every situation, there are the facts, then there is the story (or the meaning) that you tell yourself about the facts.
Many people stay stuck because the story they tell themselves about the facts leave them feeling hopeless or like victims of their circumstances.
The good news is that, while you can't always change the facts, you can always change your story!
Take for example, a woman who suffered from negative influences in her childhood. She was constantly told that she was worthless.
She has a lot of emotional pain around that.
So she uses food to numb herself to that pain.
The fact is that she did have a negative childhood. However, the story she tells herself now, at the age of 50, is that she is worthless.
The people who originally said it are no longer saying that, but she has taken over telling herself that story.
She also tells herself that food is her only comfort.
Will another diet fix this woman's issue? No! As long as she is telling herself that food is her only comfort, then any attempt to touch her food is going to be met with resistance.
She needs comfort. That is a fact. Deep down, she believes that any attempt to change what she eats is going to take her comfort away.
Do you see how this lady needs a new story if she ever hopes to change?
You might wonder what her new story could be. Well, a good place to start is God's word. It is our standard for truth.
In this lady's case, neither of her stories agree with God's word. Regarding her worth, God's word says, "I will praise You, for I am fearfully and wonderfully made; Marvelous are Your works, And that my soul knows very well (Psalm 139:14)."
God's word says that she is marvelous, yet her often repeated story to herself is that she is worthless. Hmm. Sounds like that comes straight from the father of lies, doesn't it?
Her second story is that food is her only comfort. Yet God's word says, "In the multitude of my anxieties within me, Your comforts delight my soul (Psalm 94:19)."
And the Bible says that God is one "who comforts us in all our tribulation, that we may be able to comfort those who are in any trouble, with the comfort with which we ourselves are comforted by God (2 Corinthians 1:4)."
Whether this lady chooses to use God's word to create a new story for herself is up to her. It is a sad fact that many people, even Christians, choose to live a lie versus living the truth.
In many ways, hiding out in food is the easy path. You can see it, taste it, touch it. But turning to God requires faith because you can't see Him or touch Him physically.
You just have to believe that He is there for you and will never leave you simply because He promised in His word.
Turning to God also requires vulnerability. Some of us have put up some thick walls around the things that hurt us. While they may keep pain away, they also keep joy away too.
My prayer is that God's people have courage to create new stories for themselves that agree with God's word. True stories!
I believe only then will we be able to live the abundant life that God has for each of us.
So, what's your story?
Be blessed with health, healing, and wholeness,
Kimberly Taylor
Author of the Take Back Your Temple program
P.S. When it comes to weight loss, do you often know what you should do but have a hard time doing it?
I struggled with this issue on my own weight loss journey, but I discovered that "Nothing is different until you think differently." – Pastor James MacDonald
The value of the Take Back Your Temple program is that you will learn how to think differently through using Biblical keys to overcome obstacles. You'll discover how to win the Spiritual and mental battle that often causes us to become inconsistent and get off-track on our weight loss journey.
Join a community of like-minded Christians losing weight and keep it off.
Click here to learn more about the Take Back Your Temple program