I felt led to meditate on the word "retreat" recently. The Holy Spirit revealed to me that many people, especially women, use food as a form of retreat from negative emotions or stress.
Why? Because they have come to associate food with rest, refreshment and renewal.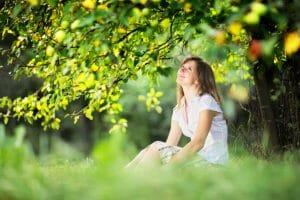 But this is an inferior way to retreat. And overeating eventually leads to more problems, such as weight gain and health problems.
A good Christian weight loss program deals with the cause of the problem, not the symptom. When you resolve the cause, the symptom takes care of itself.
God wants us to enjoy food but he also wants us to use it as it was intended – to heal, energize, and nourish our bodies.
When we need a retreat, he wants us to retreat to Him for rest, refreshment, and renewal!
Here are a couple of scriptures He gave me related to this (the bolded emphasis is mine):
John 7:38 (KJV)
He that believeth on me, as the scripture hath said, out of his belly shall flow rivers of living water."

Titus 3:4-7
But when the kindness and the love of God our Savior toward man appeared, not by works of righteousness which we have done, but according to His mercy He saved us, through the washing of regeneration and renewing of the Holy Spirit, whom He poured out on us abundantly through Jesus Christ our Savior, that having been justified by His grace we should become heirs according to the hope of eternal life.
The Lord showed me that the real danger of excess in anything, whether eating or drinking or practicing addictions, is that they dull your ability to hear His voice.
The Holy Spirit speaks to you all the time, but if you are burdened with worries, doubts, fears, overindulgence or addictions, then you cannot hear Him.
And if you can't hear Him, then you can't be led by Him or apply His wisdom to your life.
That is why so many believers are not living victorious lives. They have static in their lives that is preventing them from receiving the Holy Spirit's broadcast.
Jesus' sacrifice on the cross gave you free access to your Father. You need to build times into your day to retreat to Him to pray and to meditate on His word. Doing this will renew, refresh and regenerate you so that you can face the challenges of life.
When your belly is full with the living water of the Spirit, then you will not only be refreshed yourself but you will pour out rivers of living water to others. You will supply refreshment to a world that is thirsty for answers, love and significance.
So today, resolve to retreat in the excellent way and go forth, full of the Holy Spirit into the purpose and plans our Father has for you!
Be blessed in health, healing, and wholeness,
Kimberly Taylor
Author of the 'Take Back Your Temple' program
https://takebackyourtemple.com/program
P.S. Are you ready to grow stronger Spiritually and heal emotionally as you obtain your "feel good" weight? Let the Take Back Your Temple program be your guide. God's way is change from the inside out and once you are changed His way, you are never the same!
Click here to learn more about the Take Back Your Temple program