I wish I could say that we Christians are immune to life's storms.
But we aren't.
We face trials just like everybody else.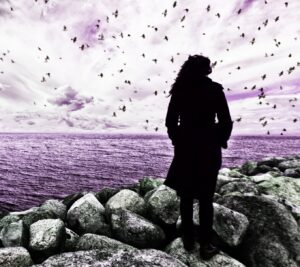 You may ask then:
"What's the use of following Christ if I still must go through the same sufferings as the world?"
But we have 2 things going for us that the world doesn't have:
We have a gift in the present and promises for the future.
In the present, we have a source of strength, comfort and power to get us through times of suffering – day by day and even moment by moment if necessary.
Have you ever gone through times when it even hurt to breathe? And yet, God was with you and gave you that next breath.
He promises in Isaiah 61:3:
"To console those who mourn in Zion, To give them beauty for ashes, The oil of joy for mourning, The garment of praise for the spirit of heaviness; That they may be called trees of righteousness, The planting of the Lord, that He may be glorified."
In the future, we are promised a time in which there will be no more pain, no more suffering, no more sorrow.
In Revelation 21:4, we are promised:
"And God will wipe away every tear from their eyes; there shall be no more death, nor sorrow, nor crying. There shall be no more pain, for the former things have passed away."
In the parable Jesus told in Matthew 7:24-28, He said that storms reveal what type of foundation our lives are built on.
Jesus said that hearing His word and putting it into practice will help you stay fixed during life's storms.
But only hearing the word and doing nothing with it will cause you to fall apart during life's storms.
So storms are going to come. There is nothing you can do about that.
But you can do something to help yourself stay fixed during the storm – steadfast, immovable, receiving comfort and strength in the Lord.
Our hardest work on this Earth is to guard our minds and heart with the truth from God's word. Each day, commit to doing that good work and walking in the truth.
You can then have confidence that you will remain fixed in the midst of the storm.
Be blessed with health, healing, and wholeness,
Kimberly Taylor
Author of the Take Back Your Temple program
P.S. When it comes to weight loss, do you often know what you should do but have a hard time doing it? You are not alone! I struggled with this issue on my own weight loss journey.
But I discovered that "Nothing is different until you think differently."
In the Take Back Your Temple program, you will learn how to think differently through Biblical keys.
You'll discover how to win the Spiritual and mental battle that often causes the enemy to defeat us. You'll get Spiritual insight so you can recognize His schemes and learn how to overcome them.
This is must-have information if you are tired of defeat and are ready to succeed permanently.
Click here to learn more about the Take Back Your Temple program