We've been discussing fears that lead to weight loss self-sabotage in our Take Back Your Temple Christian Weight program's private group lately, and I thought about one of my favorite quotes:
"Do the thing you fear and the death of fear is certain"

– Ralph Waldo Emerson
However, after taking a closer look at the quote, I see that it doesn't go far enough.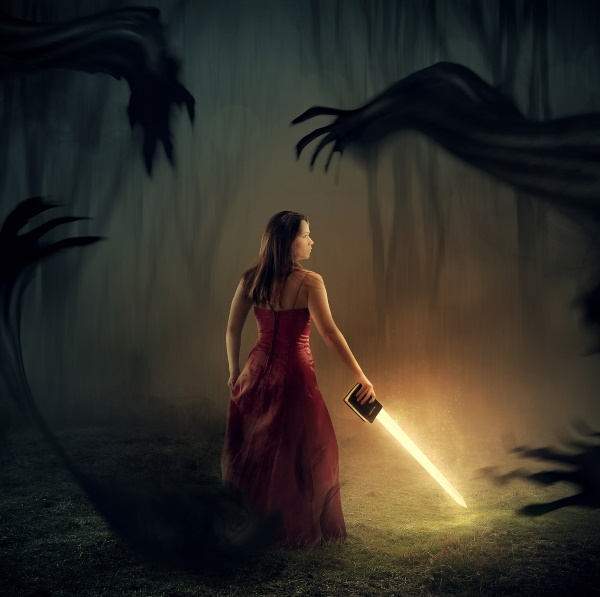 Why? Because fear is designed to paralyze.
When fear grips you, it can prevent you from doing the right thing.
What empowers you to act is knowing the Greater One is with you and backs you up!
My husband, Mike told me a story about a 90s TV show episode that illustrates this point.
It seems that a group of boys were picking on a high school girl. She went home and told her surrogate dad about it.
The "dad" advised his daughter to stand up to the bullies, to tell them that she was at school to get an education and didn't deserve to be treated like they were treating her and to stop it.
The "dad" concluded that if his daughter did that, he guaranteed the bullies would stop picking on her.
When the bullies approached the girl as usual the next day, she spoke the same words that her "dad" gave her.
You saw the bullies' expressions change from aggression to fear suddenly.

They said "Yes, okay" and backed away from the girl. Then, they practically ran away.
Then, Mike told me that the camera panned back to show the "dad", an ex-football player, standing right behind the girl with a fierce look on his face.

The girl reached her hand back to the "dad" without even looking and he gave her a high five. She knew her "dad" was there all along.
So the boys didn't back off because of the girl's words; they backed off because they saw the authority backing her up!
You occupy the same position when it comes to fear. Your Heavenly Father backs you up!
Consider this scripture from Psalm 23:
Yea, though I walk through the valley of the shadow of death, I will fear no evil; For You are with me; Your rod and Your staff, they comfort me.

– Psalm 23:4
But you will never know that unless you face your fear with the truth that the Lord is on your side.
Remind yourself and the enemy of the words your Father has spoken to you. Say them out loud, in your own voice as often as necessary when fear comes calling and the enemy brings his lies:
Fear not, for I am with you; Be not dismayed, for I am your God. I will strengthen you, Yes, I will help you, I will uphold you with My righteous right hand.'

– Isaiah 41:10

Have I not commanded you? Be strong and of good courage; do not be afraid, nor be dismayed, for the Lord your God is with you wherever you go."

– Joshua 1:9

And the Lord, He is the One who goes before you. He will be with you, He will not leave you nor forsake you; do not fear nor be dismayed."

– Deuteronomy 31:8

When you do the things you fear with the Lord on your side, THEN the death of fear is certain. Why?
Because when you FIRST remind yourself that you don't face fear alone, then you will have the courage to act in spite of fear.
Once you act, the death of fear is certain. This is not to say the enemy won't try to test you again, but now you know what it takes to defeat him.
Love to hear your thoughts! Please share in the Comments.
Be Blessed with Health, Healing, and Wholeness,
Kimberly Taylor

Author of the Take Back Your Temple program
P.S. Do you struggle with overeating sugar? If so, you are not alone!
Overcoming sugar addiction was a key factor on my weight loss journey; I lost 85 pounds and dropped from a size 22 to an 8.
In our 14-day Sugar Detox Challenge online course (inside the Take Back Your Temple program), you'll get the same success strategies and support to gain peace in your eating habits and achieve lasting weight loss.
Click here to learn more about the Take Back Your Temple program.
"Prayer for Weight Loss"