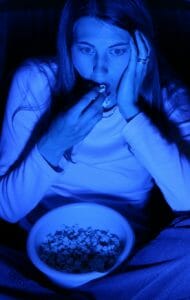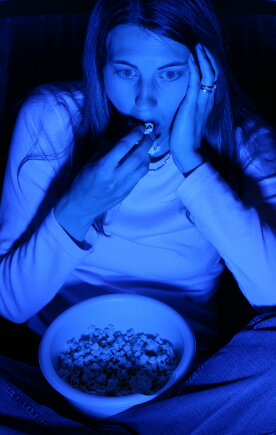 Do you struggle with night-time eating?
You are not alone.
A Take Back Your Temple reader described this problem well:
Kimberly,  you are always ON POINT and your articles are an effective blessing…I have a struggle with late night eating. I hate to go to bed hungry.

I can eat well all through the day but not eating when I get home (sometimes after 7:00 or 8:00 p.m.) is hard.

How can I overcome this late night eating habit that tends to sabotage all my good efforts during the day?

Is there a recommendation for what I could eat that would not do any real damage at night?
Here was my response to her and it should shed some light on what's really going on in your body with night-time eating:
Thank you so much for your kind comments! I give all glory to the Lord. Regarding night time eating, this is one of the most common tests I hear with Take Back Your Temple. I struggled with it myself.
I have been reviewing scientific studies about our natural body rhythms and one thing I learned relates to night time eating:
The body is hungriest at 8:00 pm for most people. The theory is that since our ancestors faced many times of famine, our genes want us to eat big meals late so that we can go to sleep on it.
That way, we can store fat for survival in case of a famine.
Thank the Lord that famine is not likely for most of us these days!
So it's good to know strategies to deal with this natural urge since the calories from a large food intake are not needed late in the day.
The body starts preparing itself for sleep around 9:00 pm with Melatonin release, which is a hormone that helps to regulate our sleep and wakefulness.
During the night hours, the body becomes more insulin resistant, which means that it is less able to process sugar.
Any excess sugar the body can't use is stored as fat more easily.
With these facts in mind, I save enough room in my eating plan for a small protein-rich snack at 7:00 pm. That is my last meal of the day.
Studies have shown that protein helps curb hunger most effectively. My favorite protein snacks are plant-based because they contain fiber to also assist in short-circuiting hunger.
I usually drink a plant-based protein smoothie (affiliate link) as my evening snack, which is chocolate flavored. I blend it with 1 cup of unsweetened almond milk and 1/2 frozen banana. It satisfies my sweet tooth.
Other protein-rich evening snacks could be:
Half of an apple or banana with 1 TBSP of sugar-free peanut butter
2 TBSP hummus with vegetable sticks (carrots, red pepper, celery)
1/2 whole grain pita with 1 TBSP peanut butter or hummus
1 cup plain Greek yogurt with a 1/4 cup of your favorite fruit or 1 TBSP nuts mixed in (you could use Stevia for sweetness)
Protein snack pack of 1 oz cheese, plus 1 TBSP of dried fruit (like raisins or cranberries) and 1 TBSP nuts.
If you keep your snack reasonable (under 200 calories) and protein-rich, you will be in control and not open yourself up for food binges later.
Here is another thing to consider; since you are working on changing your habits, then it is going to feel weird not to eat out of control in the evening at first.
You also need to plan what you are going to do besides eating to fill the time before you go to bed.
Be willing to test these strategies out until you discover what works best for you. I am praying for you!
Be blessed in health, healing and wholeness,
Kimberly Taylor
Creator of the Take Back Your Temple program
P.S. Have you ever fallen into the trap of thinking that your past equals your future? Nothing could be further from the truth.
Click Watch Video on this page to learn why you can succeed in your weight loss goals – starting today.