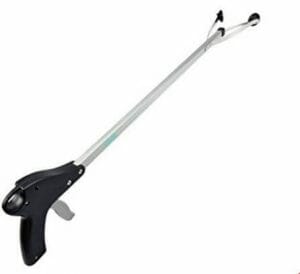 A young lady in our neighborhood had a positive idea recently that can help keep your neighborhood safe and clean, plus may even help you drop a few pounds walking.
She gave away some reach grabbers and mini waste bags to those neighbors who wanted them, which I did.
I walk regularly anyway, but now when I go walking around the neighborhood, I just "walk 'n grab"! I think of Matthew 5:16:
Let your light so shine before men, that they may see your good works and glorify your Father in heaven."
A "walk 'n grab" is great because:
Walkers can pick up litter and help keep their neighborhoods clean
They can help keep their neighborhoods safe as they look for any suspicious activity
Walkers can get healthier and maybe even lose pounds as they walk consistently (i recommend 5 days a week, 30 minutes minimum)
Walkers can make their neighborhoods more livable and perhaps increase property values through improving the neighborhood's appearance
I hope you'll join me through starting your own 'Walk 'n grab'.
Be blessed in health, healing and wholeness,
Kimberly Taylor
Creator of the Take Back Your Temple program