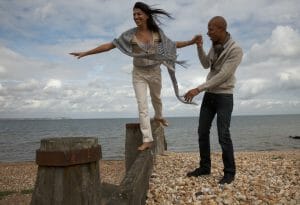 Here is another good reason to cheer up this week. If you missed the previous reasons, you can find those here: Cheer-up #1 and Cheer-up #2.
We are reflecting on those times when Jesus told someone to be of "good cheer" in the Bible and the reason He said they could be. Here is an example:
"Now in the fourth watch of the night Jesus went to them, walking on the sea. And when the disciples saw Him walking on the sea, they were troubled, saying, 'It is a ghost!' And they cried out for fear. But immediately Jesus spoke to them, saying, "Be of good cheer! It is I; do not be afraid (Matthew 14:25-27)."
You too can have confidence that God is with you as a believer in Jesus Christ. "Jesus answered and said to him, "If anyone loves Me, he will keep My word; and My Father will love him, and We will come to him and make Our home with him (John 14:23)."
When you know that God is with you, here are the results:
 You are Strong and Courageous
"Have I not commanded you? Be strong and of good courage; do not be afraid, nor be dismayed, for the Lord your God is with you wherever you go (Joshua 1:9)"
"Come to Me, all you who labor and are heavy laden, and I will give you rest (Matthew 11:28)."
" Take My yoke upon you and learn from Me, for I am gentle and lowly in heart, and you will find rest for your souls. For My yoke is easy and My burden is light. (Matthew 11:29-30)."
I recommend meditating on the #3 reason to be of good cheer today: God is with you!
Kimberly Taylor
I encourage you to meditate on the #2 reason to be of good cheer today: You have faith!
P.S. One of the eBooks included in the Take Back Your Temple Program is "Prayers and Promises to Take Back Your Temple" because I want you to have the dozen of scriptures and prayers I used in my own weight loss journey so you can gain physical, emotional, and spiritual victory every day. Check it out here:
https://takebackyourtemple.com/program
This resource is specifically structured around God's promises for health and strength – another reason to be cheerful! You can learn more here: