Do you ever think about your life as a training ground for eternity? It is true!
Since that is true, have you ever considered what it takes to endure to the end?
If you have ever experienced the loss of a loved one, then you know how brief life really is. What matters is what you do with your life!
Glorifying the Lord and doing the good works that He has called you to do is at the top of the list.
Everything changed for me when my identity changed, realizing how much God loves me. No longer did I view myself through my past or my weaknesses.
Instead, I became how God saw me – a beloved royal daughter who has joined her Father in the family business through my faith in Jesus Christ.
Our family business is saving souls and telling others about Jesus. We live our lives in service to Him.
In the Bible, the apostle Paul gave the following guidance about endurance to his Spiritual son, Timothy:
You therefore must endure hardship as a good soldier of Jesus Christ.

– 2 Timothy 2:3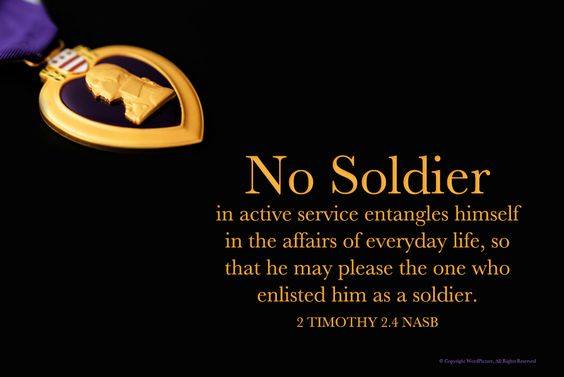 A soldier is a great example of one who must learn to endure hardship.
Soldiers aren't taken through basic training for nothing! They are trained so they will be fit for battle.
What would our armed forces be like if our soldiers did not train for battle, but instead spent their days only watching TV, playing online games, and eating junk and fast food all day?
They would become de-conditioned and unprepared for enemy attacks.
They would suffer defeat and loss in war.
Not only would they suffer but others who depend on them.
In a similar way, it helps us to think of ourselves as soldiers in God's army.
Our training in God's word, prayer, praise, and worship strengthens us Spiritually and mentally.
Our training in eating healthy and regular exercise helps to strengthen us physically.
These disciplines may not always be fun, but they are necessary if we want to endure to the end.
We have been called to live at such a time as this. Let's make the most of it!
Be Blessed with Health, Healing, and Wholeness,
Kimberly Taylor

Author of the Take Back Your Temple program
P.S. Do you struggle with overeating sugar? If so, you are not alone!
Overcoming sugar addiction was a key factor on my weight loss journey; I lost 85 pounds and dropped from a size 22 to an 8.
In our 14-day Sugar Detox Challenge online course (inside the Take Back Your Temple program), you'll get the same success strategies and support to gain peace in your eating habits and achieve lasting weight loss.
Click here to learn more about the Take Back Your Temple program.
"Prayer for Weight Loss"