One of the enemy's tactics against us is negative self talk, which can drive us to destructive habits like emotional eating.
But what if we can shut the enemy's mouth?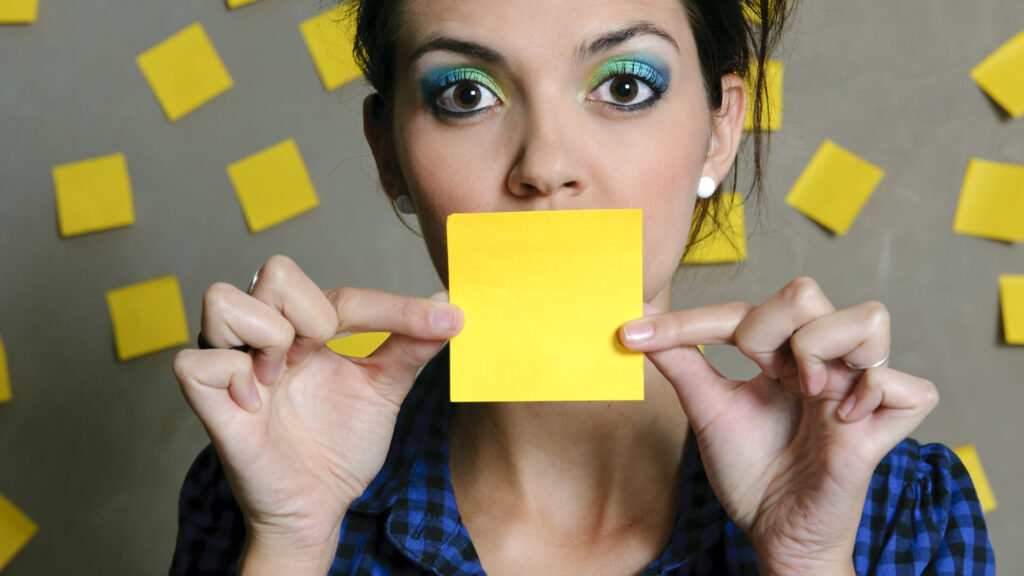 Commitment to learning is crucial for overcoming any destructive habit; after all, disciple and discipline share the same root word discipulus, which is Latin for a student.
I challenge you to study and practice the following three tactics each day to overcome negative self-talk from a Christian perspective.
What is Negative Self-Talk?
Negative self-talk is a critical inner voice that focuses on your weaknesses and shortcomings.
Destructive self talk comes from our enemy, making it sound like our own voice. The root word of the name "devil" is "diavolos," which means "accuser."
Picture a prosecutor in a courtroom. His job is to build a condemnation case against us!
Critical self-talk focuses on the past; it supports the false idea that you cannot change, using your past mistakes as evidence.
The enemy would rather we waste energy "low-renting" ourselves because of our limitations rather than focus on the greatness of our God!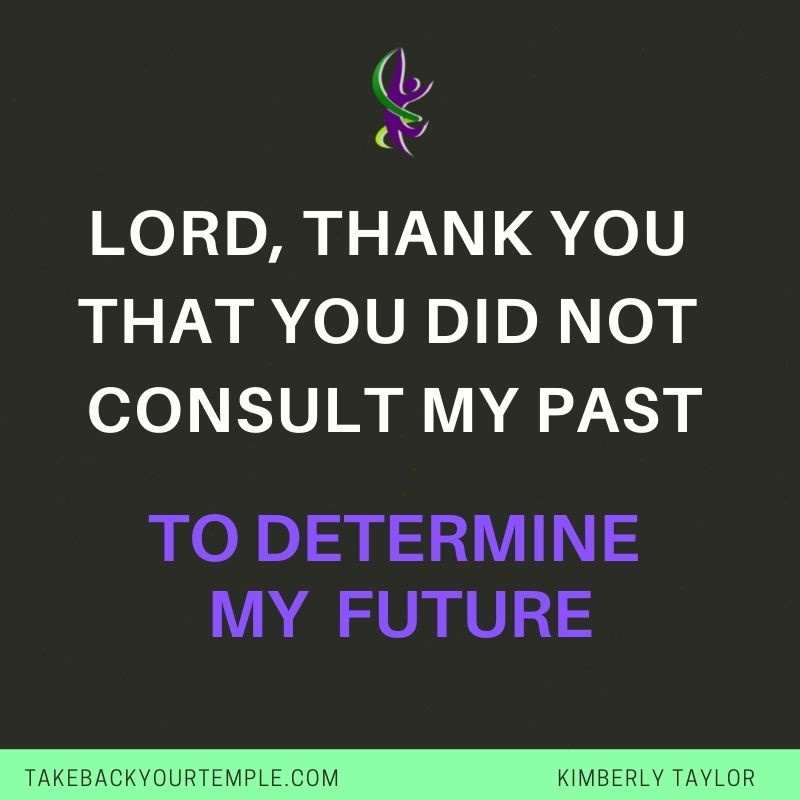 Examples of Negative Self Talk
Let's look at the inner critic's voice. It attacks our:
Destructive self-talk ties your performance to your personal worth. It also tries to convince you that your past equals your future, leading to feelings of hopelessness. Both of these beliefs are lies!
Below is one of the most transparent examples of the inner critic's voice, which a TBYT reader shared in an article comment many years ago. Picture your worst enemy using these accusing words against you:
Would you say the above words were for Angie or against her?
The enemy's aim is for us to bow down to him, to put us beneath His feet!
However, the Lord does not want His people to live according to lies, beneath their position in Him.
Jesus died so that we live an abundant life. A flourishing life requires that we live in His truth!
Overcoming Negative Self Talk
To combat the inner critic, it helps to follow the example from Joshua 5:13:
And it came to pass, when Joshua was by Jericho, that he lifted his eyes and looked, and behold, a Man stood opposite him with His sword drawn in His hand. And Joshua went to Him and said to Him, "Are You for us or for our adversaries?"
Although the Man who showed up on Joshua's battlefield was an Ally, when negative thoughts show up in our thinking, they are for our adversary.
Please repeat the following statement: "Just because I have a thought does not make it true!"
When I was in bondage to negative thinking, following the above principle inspired me to become grounded in God's truth so that I could recognize the enemy's lies when I heard them.
I recommend following these three tactics to silence the inner critic. Just remember A.I.R:
1. Attention
Awareness is the first step of change. So I recommend paying attention to your self talk, keeping a journal and noticing any habitual patterns:
Is your self talk supportive?
Or is your self talk sabotaging?
Another way to assess if your self talk is in agreement with God is to remember Jesus' contrast between Himself versus the enemy, as I alluded to earlier:
The thief does not come except to steal, and to kill, and to destroy. I have come that they may have life, and that they may have it more abundantly.

– John 10:10
This scripture speaks of two opposing Spiritual forces who have a plan for you – one good and one evil. Which do you choose?
Meditating upon this scripture helps you see the Spiritual battle in which we are engaged. Thankfully, the Lord has given us Spiritual weapons to win!
That is why it is vital to secure our emotions with the truth, setting our minds on the Lord's good plans for us.
2. Intention
Our emotions indicate the thoughts we dwell upon at any given moment. Negative thoughts/self-talk give birth to negative emotions.
Because our emotions move us to action, we must pay attention to our thoughts and ensure they agree with God's word.
The Lord has already made His will for us known in these scriptures:
…I have set before you life and death, blessing and cursing; therefore choose life, that both you and your descendants may live; that you may love the Lord your God, that you may obey His voice, and that you may cling to Him, for He is your life and the length of your days;

– Deuteronomy 30:19-20
For I know the thoughts that I think toward you, says the Lord, thoughts of peace and not of evil, to give you a future and a hope.

– Jeremiah 29:11
The Lord wants us to choose life, a close relationship with Him. However, we cannot walk in agreement with God in our self-talk as long as we allow accusations to rule our minds!
Our God is about restoration, not condemnation. Condemnation is different from conviction. Condemnation says, "You're bad, and you are never going to get any better," while conviction says, "You made a mistake and here is how to make it right."
Conviction is from life-giving grace, while condemnation yields death-dealing hopelessness. Here is a Godly response Angie could have used to replace destructive self talk:
3. Repetition
I lived in a house on the corner when I was a child. People would use our yard as a shortcut to travel between the two streets.
Over the years, a diagonal walking path formed in our yard from people in the neighborhood walking through it repeatedly.
That dirt pathway formation is close to how our brains form neural pathways. As we repeat behaviors, our brains create new nerve cells and paths to make us more efficient at what we do. Eventual, our behavior becomes automatic.
That ability can work to our benefit or detriment, depending on our chosen behaviors!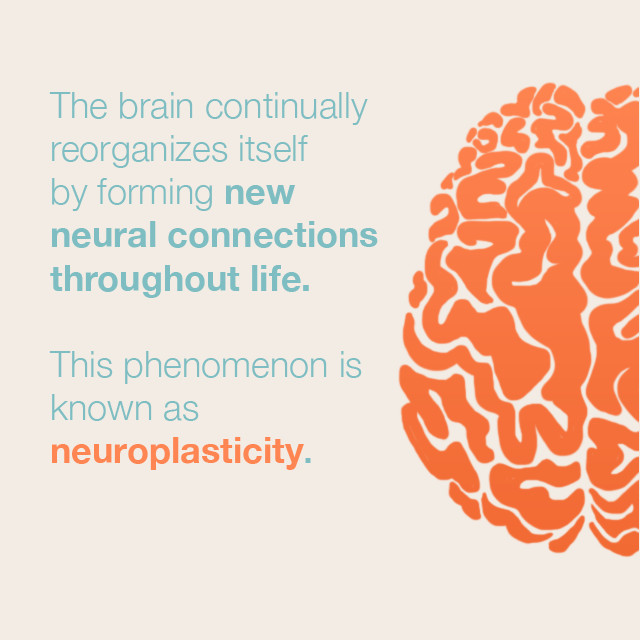 The Bible advises us:
that you do not become sluggish, but imitate those who through faith and patience inherit the promises.

– Hebrews 6:12
Patience implies the passage of time. So as we practice replacing sabotaging self-talk with truth, the new mental pathway built on truth will become more robust than the old one, making it more defined and easier to travel on!
***
Negative self-talk steals our confidence, stunts our potential, and destroys our future when we don't challenge it. Let us combat it with the above tactics.
Decide that you will obtain God's best for you and remove all stumbling blocks with His help, including sabotaging self talk!
Be blessed with success,
Kimberly Taylor
Author of the Take Back Your Temple program
P.S. Are you struggling with the challenges of emotional eating? Many people with eating issues know what to do but have a hard time doing it. That is where you need a community that supports each other!
In the Take Back Your Temple program, you will get all the support you need to overcome the Spiritual and emotional battles of weight loss, connected in our Overcomers Christian community.
Click here to confirm the Take Back Your Temple program is right for you.