Are you a fan of TV crime shows, like "Law and Order" or "CSI"? If so, you are probably familiar with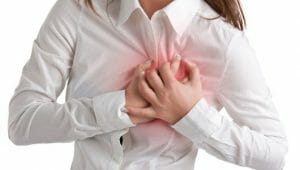 the phrase "defensive wounds."
"Defensive wounds" are injuries a victim suffers when defending themselves against attack.
Just the other day, the Lord showed me that defensive wounds can occur in a person's emotional life too.
I define emotional defensive wounds as hurts from the past that haunt you today.
Often, an emotional defensive wound hurts more and takes longer to heal than a physical one!
Here's a very personal example from my own life.
Before I met my husband Mike, I had a man in my life who I thought would be "the One." When the relationship ended, it was like someone had stabbed me through the heart.
It created an ugly emotional wound.
I'd had problems trusting men anyway so when that happened, my worst fears came true.
However, I had a choice to make after the crying stopped.
I was believing God for a husband. Did I want to wall off parts of my heart from my future husband to avoid the risk of hurt?
Did I want to make him pay for what the other guy did?
I decided I didn't want to do that. It wouldn't be fair.
So I presented my emotional wound to the Lord, the Great Physician. Psalm 147:3 promises, "He heals the brokenhearted And binds up their wounds."
After much prayer, tears, and time, God healed my wound.
When I did meet and marry Mike, I had my whole heart to give. Praise the Lord!
In this life, there is no escaping emotional wounds because this is a sin-filled world and the people in it are imperfect.
How do you know if you are dealing with emotional defensive wounds?
If you have closed yourself off from people because they have hurt you in the past then that is a clue. You put up walls so that no one can really get to know you.
Typically, addictions are a response to comfort yourself from emotional distress.
Finally, if you get emotionally upset with people above and beyond what the situation warrants, that means that person has pressed an emotional defensive wound.
Your emotional reaction is your way of saying, "Ouch!"
Yet, God has not left you helpless in dealing with these wounds. I have some scriptures and a prayer to help you begin to heal from these wounds.
If you don't allow God to do this work in your life, then your past will ruin your future – in the same way that untreated physical wounds can become infected and turn into gangrene.
The first step of healing is to present your wound to the Lord for healing. Here is a prayer you can use:
My Abba Father, my beloved Daddy,

You knew me before I was even born. You formed me in my mother's womb. You know everything about me, even the very number of hairs on my head. You said in your word that you know the plans you have for me. You have plans to prosper me and not to harm me, to give me hope and a future.

But right now, I am hurting. I don't know how to deal with this hurt. Some days, all I feel is hurt. I want to move past it so that I can move into the bright future you have for me. Yet sometimes I feel like I am stuck in emotional quicksand and can't get out.

Hurt people hurt people. I don't want to hurt anyone else because I am hurting.

I believe your word, Father. You said that it was for liberty that Christ came to set me free, so I will never again be entangled again in a yoke of bondage. I want to be free, Lord!

Your word says to lay aside every weight that so easily besets me. This issue is an emotional weight, so I am laying it at the feet of Jesus. I freely forgive the person who hurt me. I release them from any emotional debt they owe me.

My sin bill was nailed to the cross with Jesus. It is paid in full. So I nail this person's sin against me to the cross. I forgive them and pray that if they do not know Jesus for the pardoning of their sins that they came to know Him and experience the same freedom as I now have.

Thank you for setting me free, Lord! Help me be patient and steadfast in prayer, knowing that tears and time may be needed to heal completely. My heart trusts in you and I am helped.

With my song, I will praise you for my healing. In Jesus' name. Amen.
In addition, meditate upon the following scriptures. They will help increase your confidence that you can rely upon the Lord to defend you in the future.
"But You, O Lord, are a shield for me, My glory and the One who lifts up my head (Psalm 3:3)."
"As for God, His way is perfect; The word of the Lord is proven; He is a shield to all who trust in Him (2 Samuel 22:31)."
"The Lord is my strength and my shield; My heart trusted in Him, and I am helped; Therefore my heart greatly rejoices, And with my song I will praise Him (Psalm 28:7)."
You no longer have to put up emotional barriers against people. The Lord is your shield and stronghold now.
So many Christians are like the "walking wounded" and can hurt others out of their hurt. It's only when we submit our wounds to God for healing that we can be a conduit for healing for others.
Be blessed with health, healing, and wholeness,
Kimberly Taylor
Creator of the Take Back Your Temple program
P.S. When it comes to weight loss, do you often know what you should do but have a hard time doing it?
I struggled with this issue on my own weight loss journey, but I discovered that "Nothing is different until you think differently." – Pastor James MacDonald
The value of the Take Back Your Temple program is that you will learn how to think differently through using Biblical keys to overcome obstacles. You'll discover how to win the Spiritual and mental battle that often causes us to become inconsistent and get off-track on our weight loss journey.
Join a community of like-minded Christians losing weight and keep it off.
Click here to learn more about the Take Back Your Temple program