Would our health goals change if we saw our bodies as a friend who needs our help, not a burden to criticize?
Pause and think about that.
By the end of this article, you'll get a game-changing health prayer on this idea.
If your body could speak to you directly, I believe it would say: "Help a body out!"
After all, our bodies' health is largely at the mercy of our daily food choices, stress management, and the exercise we choose (or don't choose) to do.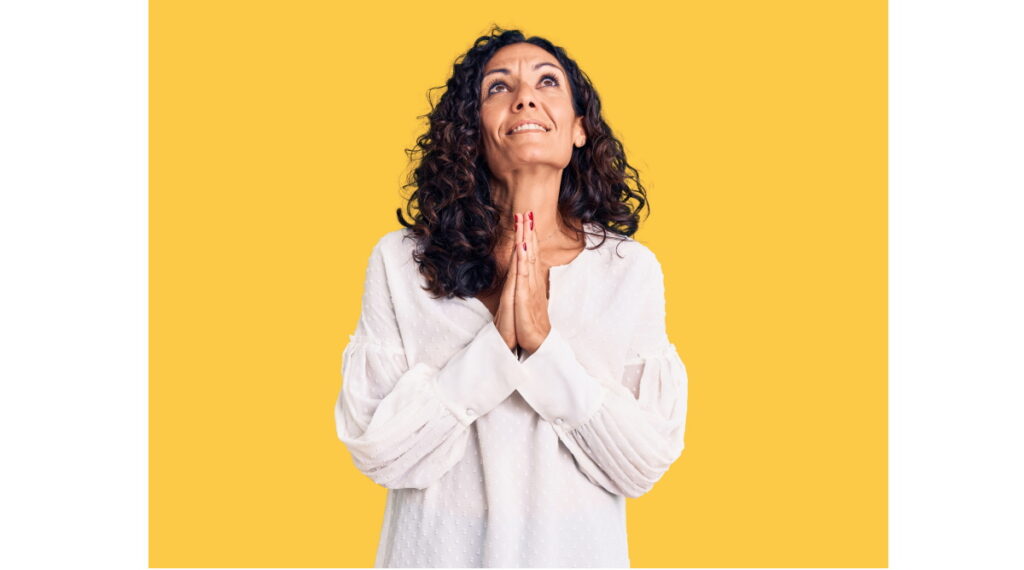 Do me a favor: Make a fist, then watch as you open and close your hand. Twirl your hand around and see the miraculous in that slight movement.
Can you imagine the thought, design, and scientific principles the Lord applied in creating your body? The components the Lord had to assemble to make those hand actions possible?
Consider the bones, muscles, blood vessels, blood cells, all of the nutrients in the cells, not to mention the vast nerve communication network that transmits the message from your brain to your hand to move!
You may have spent years thinking of your body as a burden like I once did – that it was okay to abuse and neglect our bodies.
However, starting now, I want you to see your body as a friend who needs your help!
This concept in important – especially if you are seeking a prayer for health and healing.
Begin to appreciate all that your body does for you – a blessing.
Appreciating your Miraculous Body
King David appreciated his body as a miracle and praised God for it in Psalm 139:13-14:
"For You formed my inward parts; You covered me in my mother's womb.

I will praise You, for I am fearfully and wonderfully made; Marvelous are Your works, And that my soul knows very well."
Take time to look in a full-length mirror, moving in different directions so you can view your body from various angles.
Banish any critical thoughts; let your body fascinate you! Praise God because He created you for a purpose, for a relationship with Him.
Your body is your "Earth suit" right now. But someday, when it is time for you to change addresses to live in heaven, you will inherit a different suit.
You will leave the body you inhabit now behind, exchanging it for a glorified body suitable for your heavenly habitation!
However, while you are here, become your body's friend and train it to do what it should so you can finish life well.
Consider this "training" similar to training up a child in the way she should go!
Check out the Apostle Paul's mindset toward his body in 1 Corinthians 9:25-27 (New Living Translation):
"All athletes are disciplined in their training. They do it to win a prize that will fade away, but we do it for an eternal prize. So I run with purpose in every step. I am not just shadowboxing. I discipline my body like an athlete, training it to do what it should. Otherwise, I fear that after preaching to others I myself might be disqualified."
If you are in ministry, these scriptures are especially relevant!
Help your Body Out with Positive Health Habits
Consider your current daily habits:
• Do they support maximum performance for the body you inhabit, or do they slow you down, making it harder for your body to move and your brain to think?
• Are you supplying your body with the nutrients to make energy, support your immune system to defend you against disease, optimize your nerve function, and repair tissue injuries?
Come on – help your body out!
• Fuel it optimally each day for nourishment
• Move it often each day to bring fresh oxygen into your cells and stimulate your circulation
Bring energy and life to your body through your daily health habits.
Help your Body Out of Lifestyle Diseases
You can also help your body out of the following risks:
Vulnerability to diseases that haunt your family history
Susceptibility to frequent emotional instability
Future disability
Praise God for your living, breathing body because it won't be so forever; while you have it, use your body to love, speak edifying words, and serve others.
Glorifying God and contributing to others' well-being are the highest purposes for which you can use your body!
Take the pledge: "I help my body out."
A short prayer for good health follows:
Short Health Prayer
Lord, I praise You that You have made me fearfully and wonderfully! Marvelous are Your works and that my soul knows very well.
Please help me to help my body out! I want to eat foods that satisfy my mouth with good things and renew my youth like the eagle's, according to Your word in Psalm 103:5. I want to move my body with purpose throughout the day to bring fresh oxygen to every cell and stimulate my circulation.
I want to eat foods that support emotional stability and sobriety, not hindering me in developing the mind of Christ.
Please help me use my body for its highest purposes: To glorify You and contribute to others' well-being.
Thank You, Lord, for allowing me to glorify You in my body and spirit, which belong to You!
Kimberly Taylor
Author of the Take Back Your Temple program
P.S. Are you struggling with the challenges of emotional eating? Many people with eating issues know what to do but have a hard time doing it. That is where you need a community that supports each other!
In the Take Back Your Temple program, you will get all the support you need to overcome the Spiritual and emotional battles of weight loss, connected in our Overcomers Christian community.
Click here to confirm the Take Back Your Temple program is right for you.