Note: I wrote this article back in 2006, the year I started the Take Back Your Temple blog. This was 2 years after starting my own weight loss journey.

– Kim
Recently, I was trying on a pair of pants and happened to notice a horizontal black line running along my side, just above my hip bone.
For a brief moment, I wondered what it was and then it dawned on me; it was a patch of skin I hadn't seen in years.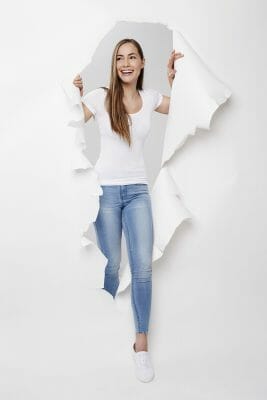 The fat that used to be around my waist caused the skin to bulge out and then fold over on itself.
But now that the fat was melting, the skin in that area was no longer bulging out and folding over.
I was seeing the skin that had been hiding underneath the fold.
Then I thought about how that was a metaphor for all of the emotional hiding I had been doing over the years.
So now it continually surprises me with new discoveries.
When I made a decision to no longer hide from life, then my body heard me.
It seemed to say, "Well, if you aren't going to hide from me, then I won't hide from you anymore either."
How many times in the past had I tried to hide from my feelings by running to food as a refuge?
How many times had I avoided revealing my opinions for fear of disapproval?
How many times had I dodged opportunities because I was afraid of failure or success?
Too many times to count!
I'll see a new patch of skin, or catch the ripple of a muscle when my leg moves a certain way, or feel my flexibility increase in ways I never thought it could.
Oh, it is exhilarating!
My hope is that you too will decide to face your fears and problems head-on, not hide from them.
If you do, you'll find a whole new world is out there waiting for you.
You'll step into the brighter future God has for you!
"For I know the thoughts that I think toward you, says the Lord, thoughts of peace and not of evil, to give you a future and a hope.

– Jeremiah 29:11