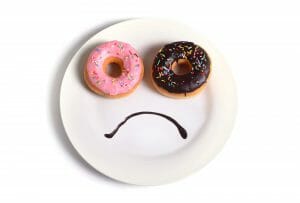 "Do people who are addicted to sugar or any other substance think differently than those who are not?"
This question crossed my mind recently and I decided to do some research on it.
I discovered this sobering quote from psychologist Dr. Lee Jampolsky about the origins of the addictive mindset:
…the origins of addiction really come from our own thinking. When we are in a belief system that says 'my happiness is somewhere out there' – in a substance, in a relationship, in an amount of money in my bank account – that when I see that my happiness is out there, I am going to be heading down the road of addiction."
The idea that your happiness is attached to having a particular food or any other material substance can lead you into seeking or clinging to that substance desperately.
This reminds me of the "Acres of Diamonds" story. It seems an African farmer always dreamed of possessing the wealth of diamonds.
He could not imagine happiness without them. So he decided to sell his farm and go off in search of diamonds.
He traveled all over the world but in spite of his desperate efforts, he never found the diamonds he sought. Finally, despondent and discouraged, he took his own life.
Meanwhile, the person who bought the African farmer's property found an unusual rock on the ground. He thought the rock looked interesting, so he put it on his mantlepiece.
One day a friend was visiting and exclaimed when he saw the rock. "Wow, what an incredible diamond you've found!"
The new owner said, "What do you mean? That's just a rock. There are tons just like it out there."
The friend explained to the owner that the "rock" he'd found was a diamond in an unfinished form.
It turned out that the farm was one of the largest diamond mines ever discovered!
That African farmer, the original owner, already possessed wealth; the problem was that he lacked the vision to see it.
Rather than putting his energy into maximizing what he had, he was too busy looking for happiness elsewhere.
Even Christians can fall into this trap.
The Bible doesn't teach that happiness is "out there." Rather, Jesus teaches us that the kingdom of God is within us (Luke 17:20-21).
Romans 14:17 defines what this means;
For the kingdom of God is not eating and drinking, but righteousness, peace and joy in the Holy Spirit."
Righteousness, peace, and joy are part of our inheritance as kingdom citizens.
Here are some scriptures to meditate upon daily to ensure your inner kingdom is in order:
Affirm righteousness as your identity in Christ: "For He made Him who knew no sin to be sin for us, that we might become the righteousness of God in Him (2 Corinthians 5:21)."
Allow the Lord to work righteousness through you:  "And do not present your members as instruments of unrighteousness to sin, but present yourselves to God as being alive from the dead, and your members as instruments of righteousness to God (Romans 6:13)."
Make choices that give you true peace: "Peace I leave with you, My peace I give to you; not as the world gives do I give to you. Let not your heart be troubled, neither let it be afraid (John 14:27)."
Seek joy in the Lord's presence: "You have made known to me the ways of life; You will make me full of joy in Your presence (Acts 2:28).'"
Examine your thoughts. Are you thinking that you can't be happy unless you obtain something "out there"? Even good things can become a problem when we make our daily happiness dependent upon them.
If you are struggling with sugar addiction or any other addiction, then a great place to start in overcoming it is to learn to focus on righteousness, peace, and joy daily – which is your kingdom inheritance through Jesus Christ!
Click here to learn what feeds addiction in Part 2 of Overcoming the Addictive Mindset.
Be blessed in health, healing, and wholeness,
Kimberly Taylor
Creator of the Take Back Your Temple program
P.S. Are you ready to grow stronger Spiritually and heal emotionally as you achieve your ideal weight? Let the Take Back Your Temple program be your guide. God's way is a change from the inside out and once you are changed His way, you are never the same!
Click here to learn more about the Take Back Your Temple program