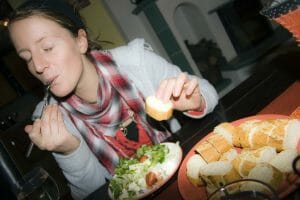 You attend the family barbecue. All the food is laid out buffet style. All the best cooks in the family have brought their best dishes.
You are standing at the beginning of the buffet line with an empty plate. What do you do?
Whether at the family barbecue, the church dinner, or an all-you-can-eat buffet, a gluttony mindset can whisper to you: "Get your money's worth!" or "Better get it while you can!"
This "getting" mindset can persuade you to overindulge.
The root word of gluttony means "gulp."
The issue is not about eating to satisfy your hunger; it is about overeating to satisfy your appetite, which goes far beyond the physical need for food.
It's the thrill of getting, acquiring, and consuming, plus the fear of loss that drives the gluttony mindset.
If gluttony is a habit in your life, then I have 3 mental shifts you can make to renew your mind in this area.
But before I cover those, why is it even necessary to renew your mind where gluttony is concerned?
Well, the Bible links alcoholism and gluttony together frequently, as in Proverbs 23:20-22:
"Do not mix with winebibbers,
Or with gluttonous eaters of meat;
For the drunkard and the glutton will come to poverty,
And drowsiness will clothe a man with rags."
First, the Bible warns about the influence of people who overindulge since other people's behavior can have a powerful influence on us.
We often like to do what others are doing to fit in. As a result, we often go in the way they are going because it feels uncomfortable to act differently from them.
However, to experience the fullness of God's blessings, we need to apply His wisdom in every area to show others that His way is good and His word is right.
Self-control is a fruit of God's spirit.
These scriptures also state other reasons why gluttony is dangerous in a Believers life; practicing gluttony is a misuse of God-given resources.
Rather than being content with enough food to sustain yourself, gluttony grows into greed – wanting more than its share.
The impulsive nature that gluttony "feeds" can also spill over into other areas.
As excessive money is spent on food, then you can lack money in other important areas, such as for adequate housing, clothing, for emergencies, or even helping to take care of the poor and needy.
Now, let's look at the 3 mindset shifts to make when gluttony tries to rear its ugly head:
1. "I'm taking my body back."
As a believer in Jesus, Paul exhorts us in Romans 12:1-2:
I beseech you therefore, brethren, by the mercies of God, that you present your bodies a living sacrifice, holy, acceptable to God, which is your reasonable service. And do not be conformed to this world, but be transformed by the renewing of your mind, that you may prove what is that good and acceptable and perfect will of God. "
Because we recognize that it is only through God's mercy and grace that we are saved, then we present our bodies to Him as a living sacrifice in gratitude for what He has done for us.
This is something that the natural man does not want to do!
But when you made Jesus Christ your Lord and Savior, God's Spirit came to live inside of you (see Galatians 4:6).
You have a new identity as God's child and your body belongs to Him.
It is your responsibility to manage it properly.
You no longer identify with your old nature. Because you are in Christ, you are a new creation. Old things have passed away. All things have become new (see 2 Corinthians 5:17)!
Sacrifice involves trading something of lesser value for something of greater value.
In presenting your body as a living sacrifice to God, then you allow God to use it for His glory. This is not about size, but about stewardship.
You seek God for His purpose and His plan for your life and occupy yourself daily with them.
This is a high honor indeed!
2. "I'm taking my mind back."
Not only does Romans 12:1-2 exhort us to present our bodies as living sacrifices to God, but it says that we are to renew our minds so that we are changed.
We no longer think the old way, but our thoughts align with God's word.
Our change provides evidence to the world that God's will is good, acceptable, and perfect.
We no longer allow the world to shape our minds.
One necessary step to overcoming the gluttony mindset is to recognize the factors that drive it. Consider your food selections if you practice gluttony.
Those foods may contain substances that react like drugs to your body chemistry.
Consider this example: Let's say that you are about to have surgery and an anesthesiologist gives you a drug to put you to sleep.
When you wake up, would you then condemn yourself for your lack of willpower because you went to sleep?
Of course not!
Your body was under the influence of the drug; it was not a question of willpower. The drug acted upon your brain chemistry.
So the smart thing is to ask yourself – are there foods in my life that my brain reacts to like a drug?
Here is a big clue: If there is a food that you don't want to let go of because you fear the withdrawal symptoms, then that is your drug!
You may go through some withdrawal symptoms as you remove that food/drug from your life and replace it with something that is more beneficial to you, but you can survive those symptoms with the Lord's help.
Because I suffered from brain hijacking for years, I avoid any food that I know causes that reaction in me, just like I would avoid an allergy-causing food.
When I am tempted at the family barbecue, the church dinner, or the buffet, then my strategy is to leave half my plate for vegetables, and pick 2 of the less healthy things but only if they don't hijack my brain.
I don't pile food on top of food and ensure that I can still see the bottom of the plate in some areas.
I joke with myself, "Kim, leave some room for the Holy Ghost!"
To survive in this world, you need all of your mental faculties alert and sharp. So ensure that your food selections support your mental stability.
3. "I'm taking my emotions back."
Gluttony goes far beyond satisfying physical hunger but involves consuming food to the point of drunkenness, stupor, and numbness.
The person who eats to excess regularly typically does so to escape reality – they do not want to face painful circumstances in their present or they want to escape painful memories from their past.
But as your loving Father, God has the power to help you in your present and heal you from your past. Grab hold of this promise in the present:
And the Lord, He is the One who goes before you. He will be with you, He will not leave you nor forsake you; do not fear nor be dismayed (Deuteronomy 31:8)."
And grab hold of Jesus as the Redeemer of your past:
The Spirit of the Lord God is upon Me,
Because the Lord has anointed Me
To preach good tidings to the poor;
He has sent Me to heal the brokenhearted,
To proclaim liberty to the captives,
And the opening of the prison to those who are bound;
To proclaim the acceptable year of the Lord,
And the day of vengeance of our God;
To comfort all who mourn,
To console those who mourn in Zion,
To give them beauty for ashes,
The oil of joy for mourning,
The garment of praise for the spirit of heaviness;
That they may be called trees of righteousness,
The planting of the Lord, that He may be glorified (Isaiah 61:1-3)."
The message is clear; the Lord wants to heal you of everything that binds you.
Humble yourself today under His mighty hand in receiving your healing from gluttony and He will lift you up!
Be blessed in health, healing, and wholeness,
Kimberly Taylor
Creator of the Take Back Your Temple program
P.S. When it comes to knowing the enemy's devices against us, Christians can't afford ignorance. Many times, he traps Christians in engaging in destructive behavior like overeating, which can lead to excess weight.
Click here to learn about the Take Back Your Temple program.
If you have negative thoughts and habits that are keeping you in bondage, you must know how to overcome them to reach your best weight and fulfill your God-given purpose:
Click here to learn about the Take Back Your Temple program.