I was at Bible study one time and our pastor covered some scriptures in Luke 22. It's a critical passage for a temptation bible study.
My eyes fixed on two particular scriptures about temptation that I've never seen before:
"When He came to the place, He said to them, "Pray that you may not enter into temptation."

– Luke 22:40
Then He said to them, "Why do you sleep? Rise and pray, lest you enter into temptation."

– Luke 22:46
However this time, I focused on three words "enter into temptation."
I suddenly saw it as like going through a door. You are in a place of safety when suddenly temptation's door opens, inviting you to come in.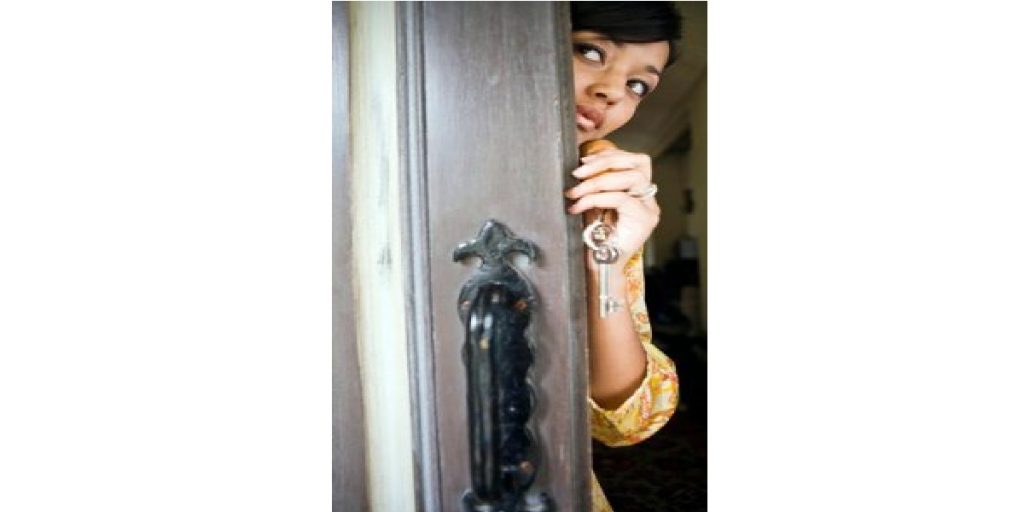 I want you to imagine a door opening up behind you; hear that door turning on its creaking hinges.
When I usually read these temptation Bible study scriptures, I focus on the prayer part because is important that you pray to help you deal with temptations.
However, the Lord told me that it is important to shut these doors, discerning the causes of temptation for you.
Some days, you will have many doors open up that will try to lead you astray. Others, you will have few.
But no matter how many doors you have to confront, decide that you will be faithful to shut each one. Let's go deeper in this Bible study on temptation pdf (Note: you can get a PDF version of this article using the printfriendly buttons at the bottom).
Temptation Bible Study: Watch and Pray
Jesus teaches how and why it is important that you shut temptation's door:
"Watch and pray, lest you enter into temptation. The spirit indeed is willing, but the flesh is weak (Matthew 26:41 and Mark 14:38)."
In these temptation bible study scriptures, Jesus has asked the disciples to watch and pray with Him in the Garden of Gethsemane. But they fell asleep. What he said to them is a great lesson for us!
First, he says that failure to watch and pray will lead to you going through temptation's door. I'll tell you what to watch for in just a moment.
In the second part, Jesus says that you may want to do the right thing but your flesh opposes that because it is weak.
Your flesh is the door through which the enemy tries to gain access into your life. He wants to take a bite out of your flesh.
1 Peter 5:8 warns:
Be sober, be vigilant; because your adversary the devil walks about like a roaring lion, seeking whom he may devour."
How can you guard yourself against this vulnerability?
Galatians 5:16 gives us a strategy:
I say then: Walk in the Spirit, and you shall not fulfill the lust of the flesh."
4 Areas to Shut Temptation's Door
Now let's cover 4 areas to which you need to shut the door of temptation. You need to watch out for them because these are ways in which Satan tries to get you to go through temptation's door:
1. Spiritual dryness (Spiritual hunger and thirst): You can be vulnerable to temptation if you are not taking time to feed your spirit man daily.
As a follower of Christ, you need prayer, praise, worship, and spending quiet time in God's presence as much as you need physical food.
You cannot have victory over your flesh without it. Remember, you will not fulfill the lust of the flesh to the degree that you strengthen your spirit man daily.
2. Lying thoughts: Lying thoughts are those that not in line with God's word. In order to recognize them, you need to spend time studying and meditating on God's word to see what it says.
A good starting place is the book of John because you learn about Jesus and His love. Then the epistles (Romans to Philemon).
These were the apostle Paul's letters to the church to teach you how to live victoriously in Christ. You are called to take every thought captive to the obedience of Jesus Christ.
3. Emotional manipulation: The enemy knows exactly what emotional strongholds you have, such as unforgiveness, depression, anxiety, frustration, past emotional wounds, feeling unloved, lonely, etc.
He wants you to get into these emotions so deeply that you are compelled to run to food or other substance to comfort your pain or to gain pleasure.
The enemy can sometimes play with your feelings as skillfully as a virtuoso plays the violin! He gets great amusement in driving Christians to emotional extremes.
So it's important that you submit areas of emotional vulnerability to God in prayer for healing and comfort. Stop allowing yourself to be the enemy's entertainment source!
4. Environmental suggestions: In this case, you are either making it easy for yourself to practice negative behavior (such as keeping trigger foods around you that make you overeat).
Or else, someone around you is putting temptations before your eyes.
Many people don't want to give into temptation, but still want to keep the source of it within view or else, keep temptation's phone number!
However, managing your environment is one of the simplest, yet most overlooked ways to prevent yourself from entering into temptation.
Ordering your environment to make it easy for yourself to do good and stop making provisions to enter into temptation is one of the most empowering steps you can take.
It eliminates a lot of stress too.
When you shut temptation's door, you will see more daily victories in your life! Put Jesus' words into practice: Watch and pray.
Be Blessed with Health, Healing, and Wholeness,
Kimberly Taylor

Author of the Take Back Your Temple program
P.S. Do you struggle with overeating sugar? If so, you are not alone!
Overcoming sugar addiction was a key factor on my weight loss journey; I lost 85 pounds and dropped from a size 22 to an 8.
In our 14-day Sugar Detox Challenge online course (inside the Take Back Your Temple program), you'll get the same success strategies and support to gain peace in your eating habits and achieve lasting weight loss.
Click here to learn more about the Take Back Your Temple program.
"Prayer for Weight Loss"