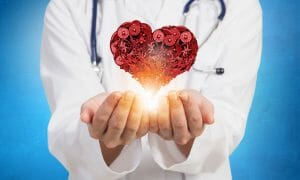 What is in your heart to do? It may be time for a Spiritual heart check-up.
Why? Because your heart conditions determine whether God's word will bear fruit in your life or not.
I thinking about this issue while driving home from visiting a sick friend recently.
A key thought occurred to me: People do what is in their heart to do.
Your daily choices reveal your heart's desires.
Now before I went to visit my friend, I had all sorts of contrary thoughts:
"I'm tired…"

"I don't feel like going…"

"What will I say to comfort her…"
But in my heart, I did want to go because I love my friend. I wanted to be there for her in her time of need.
So I went anyway, even though my flesh complained at first.
If you are having difficulty following through with any desire, a good question to ask yourself is:
"Is my heart in this?"
You also want your heart to be good ground so that you can bear Spiritual fruit, which reveals itself in time.
According to Galatians 5:22-23, this Spiritual fruit is love, joy, peace, patience, kindness, goodness, faithfulness, gentleness, and self-control.
However, Jesus tells us that there are 3 conditions to beware of because they prevent God's word from flourishing in your heart.
Here are 3 questions to ask yourself for a Spiritual heart check-up.
These questions arise from the Parable of the Sower Jesus tells in Matthew 13:1-23.
1. Is my daily relationship with God priority in my life?
With this first heart condition, Jesus taught that there are people who just don't care about Godly things.
They can hear God's word but not understand it. The enemy then comes and snatches away the word sown in their hearts (see Matthew 13:18-19).
This condition refers to people of the world largely because they do not have God's Spirit within them. So God's word sounds like foolishness to them.
However as believers in Jesus, we have the capacity to understand God's word because His Spirit lives in us.
But we must apply our hearts to understanding. We can ask the Holy Spirit to illuminate the word that we are hearing and reading so that we understand it.
Once we understand God's word, we can live it out.
Our Heart Confession: "I value my relationship with God above everything in my life. I apply my heart to understanding and living His word daily.
2. Am I willing to endure hardship for Christ's sake?
With the second heart condition, Jesus taught that there are people who receive His word with gladness at first. But when trouble comes, they stumble immediately (see Matthew 13:20-21).
Why? Because they are only interested in God at the surface level.
With shallow roots, you can become uprooted with the slightest tug!
Jesus asks His disciples to count the cost of following Him (see Luke 14:27-33).
You may feel uncomfortable at times in your journey with Jesus. Others might disapprove or even ridicule you.
You will even have to battle your own flesh at times when it wars against what your Spirit wants to do.
But you are not going through anything that Jesus didn't suffer already.
Take comfort that you have a Savior who has set the ultimate example of living a life pleasing to the Father, in spite of hardship.
He endured. So can you with His help!
Our Heart Confession: "I am willing to endure hardship like a good soldier. Lord, create in me a clean heart and renew a steadfast spirit within me so that I stand strong until the end."
3. Do I submit my goals and cares to God daily?
With the third heart condition, Jesus warns us to be mindful of our daily focus.
He said that it is possible for this world's cares and deceitfulness of riches to choke God's word and make it unfruitful in us.
While it is okay to have goals, we need to keep them in the right perspective.
After all, everything in this world is passing away.
I heard a sermon once in which the pastor challenged his congregation to visit the local garbage dump.
He said, "When you visit the dump, you are going to see refrigerators, televisions, perhaps clothes and shoes. At some point in the past, someone worked really hard to get money for these things. They valued them highly. But now, there they are…at the garbage dump, thrown away as useless."
Think about the things for which you are aspiring.
The only thing that will last is our relationship with the Lord. He is the only Being who possesses eternal life.
We are like soldiers serving in a foreign country. We must live sober, watchful lives.
The Lord calls us to do good works to glorify Him and expand His kingdom.
Our Heart Confession: "Lord, I cast my cares on You because you care for me. I am a Kingdom citizen and set my mind on Kingdom matters."
I hope all was well in your Spiritual heart check-up. However, if you found some issues, then the Great Physician can help you with that!
Remember: People ultimately do what is in their heart to do.
Delight yourself in the Lord daily and He will change your heart desires to line up with His!
Be blessed with health, healing, and wholeness,
Kimberly Taylor
Creator of the Take Back Your Temple program
P.S. When it comes to weight loss, do you often know what you should do but have a hard time doing it?
I struggled with this issue on my own weight loss journey, but I discovered that "Nothing is different until you think differently." – Pastor James MacDonald
The value of the Take Back Your Temple program is that you will learn how to think differently through using Biblical keys to overcome obstacles. You'll discover how to win the Spiritual and mental battle that often causes us to become inconsistent and get off-track on our weight loss journey.
Join a community of other Christians losing weight and keep it off.
Click here to learn more about the Take Back Your Temple program