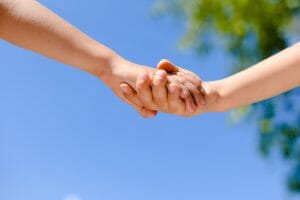 I love feeling comfortable. Don't you?
However, I got a new revelation about the God of all Comfort recently.
Let me explain.
I heard that a death occurred in the family of someone I know.
It was in my heart to contact them to offer my condolences.
But I procrastinated on doing it.
Why?
Because I feared the discomfort of calling them.
I thought to myself, "I wouldn't know what to say…" and "I feel guilty because it's been a while since I called them…"
But no matter my excuses, my reluctance to call boiled down to one thing:
At that moment, I valued my own comfort above comforting them.
Ouch.
Even facing that truth was uncomfortable!
How many times have we refused to do something that God calls us to do – simply because we fear the discomfort of doing it?
Yet, there is hope for those of us who fear being uncomfortable.
Jesus Himself knew that we would need help in this area. He said to the disciples in John 14:16-18:
And I will pray the Father, and he shall give you another Comforter, that he may abide with you for ever; Even the Spirit of truth; whom the world cannot receive, because it seeth him not, neither knoweth him: but ye know him; for he dwelleth with you, and shall be in you. I will not leave you comfortless: I will come to you (KJV)."
In the New King James Version of this scripture, the word "Comforter" is translated as "Helper."
The Lord knew we would need help to navigate this world of pain, sorrow, and oppression.
So in thinking about my recent issue of needing comfort in the face of my discomfort, I meditated on that scripture.
And I saw at least 3 benefits that the Holy Spirit provides to us Believers in Jesus when we have discomfort:
1. He Provides Companionship.
The Holy Spirit was called alongside to be with us wherever we go. Jesus said that the Helper lives with us and lives in us. He sticks with us closer than a brother.
We may feel alone at times, but we are never alone.
As the third person of the Godhead, the character trait ascribed in Psalm 16:11 applies to the Holy Spirit as well:
You will show me the path of life; In Your presence is fullness of joy; At Your right hand are pleasures forevermore."
So even in the midst of discomfort, we can take a deep breath and rejoice, knowing that we have help in our time of need.
We don't go through it alone.
2. He Provides Counsel.
So much deception occurs in the world that we live in today. What is wrong is often labelled right and what is right is condemned as wrong.
Yet, let's look at John 14:6:
'Jesus said to him, "I am the way, the truth, and the life. No one comes to the Father except through Me."
Jesus is the path that we follow, the Source of truth in our hearts, and the life in which we live!
He promised in John 16:13:
However, when He, the Spirit of truth, has come, He will guide you into all truth; for He will not speak on His own authority, but whatever He hears He will speak; and He will tell you things to come."
Whenever we need Godly counsel, all we have to do is ask in prayer. He will give us wisdom in every situation we face.
3. He Provides Comfort/Belonging.
In the New King James Version, the word "comfortless" in John 14:18 is translated as "orphans" – children whose parents have died.
But Jesus said that He would not leave His disciples as orphans; the Holy Spirit provides the comfort and care in the life of the disciple as a good parent would.
Not only that, but He reminds us of our identity as children of the Most High God. As such, we are the apple of God's eye.
With all that God has provided in mind, here is what we need to remind ourselves during moments of discomfort:
Remind ourselves that we are not alone.
We accept that we may feel uncomfortable at the moment, but we are not alone in it.
Jesus lived in an Earthly body too and shares in our sufferings.
Remind ourselves that the discomfort won't last forever.
In 2 Corinthians 4:17, the apostle Paul says,
For our light affliction, which is but for a moment, is working for us a far more exceeding and eternal weight of glory, while we do not look at the things which are seen, but at the things which are not seen. For the things which are seen are temporary, but the things which are not seen are eternal."
Paul called the things we go through on this Earth as a "light affliction" that lasts "but for a moment."
Consider that this was the same man who spoke of whippings, beatings, stoning, shipwrecks, thrown into prison, in peril, cold, hungry, thirsty, naked (see 2 Corinthians 11:27).
If Paul could call those experiences a "light" affliction, then what would we call the discomfort that we experience today?
Reading 2 Corinthians 11:27 again was a reality check about my reluctance to experience discomfort in picking up the phone.
Come on…
Remind ourselves that the rewards of obedience WILL last forever.  
2 Corinthians 3:18 says,
But we all, with unveiled face, beholding as in a mirror the glory of the Lord, are being transformed into the same image from glory to glory, just as by the Spirit of the Lord."
As we follow the Holy Spirit's leading, He is changing us into the image of Christ. Wow, what an honor that is!
Nothing in this world compares to that – not even feelings of comfort.
So, I had an opportunity to remind myself of all of these truths as I reached out to my friend.
Guess what? It wasn't uncomfortable at all. The discomfort was only in my imagination.
Wow. That was a big lesson for me.
The next time you need comfort in the midst of discomfort, seek the Lord according to 2 Corinthians 1:3-5:
Blessed be the God and Father of our Lord Jesus Christ, the Father of mercies and God of all comfort, who comforts us in all our tribulation, that we may be able to comfort those who are in any trouble, with the comfort with which we ourselves are comforted by God."
I just realized that when we seek comfort from any sources, such as food and material things, we may feel comforted temporarily but that type of comfort ends with us!
However, when we learn to allow God to comfort us, we can give others the comfort that we have received.
We receive power to comfort others in their troubles.
All glory to the God of all comfort!
Be blessed with health, healing and wholeness,
Kimberly Taylor, Creator of the Take Back Your Temple program
P.S. Tired of carrying emotional weight?
The value of the Take Back Your Temple program is that you will learn how to think differently through Biblical truth.
You'll discover how to lay aside emotional weight and walk in freedom.
Join a support community of other empowered Christians discovering how to release weight and keep it off.
Click here to become a Take Back Your Temple program member.