If you abide in Me, and My words abide in you, you will ask what you desire, and it shall be done for you. By this My Father is glorified, that you bear much fruit; so you will be My disciples."

– John 15:7-8
To me, this is one of the greatest, joy-inspiring promises in the Bible. It is a great testament to God's love for His children.
He wants to equip us with every good thing that we need to accomplish His purposes on this Earth.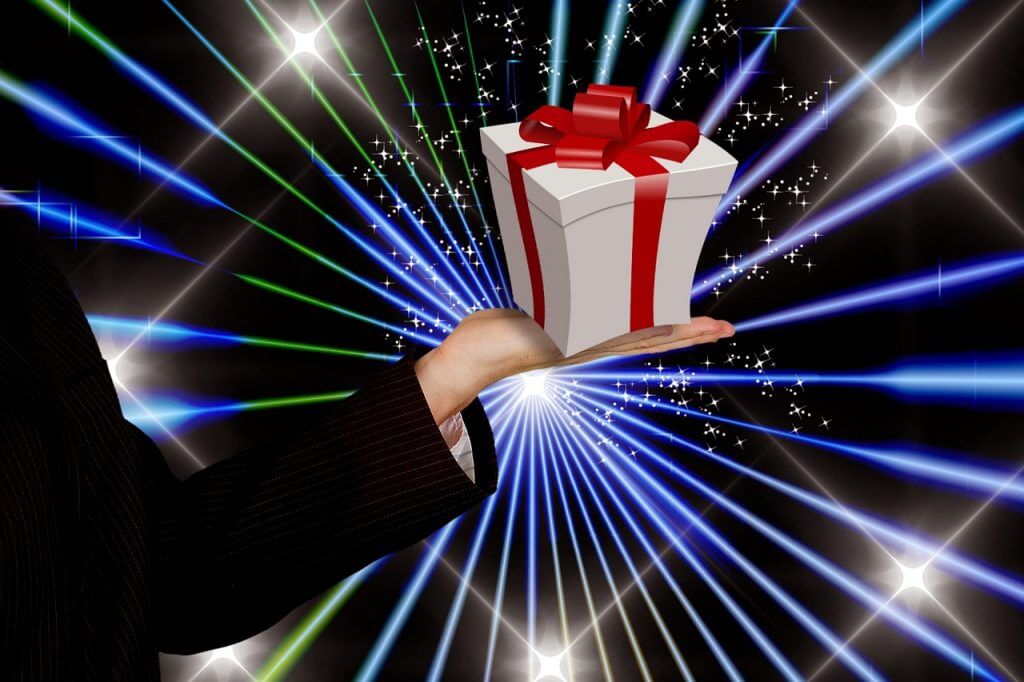 Note: If you would rather listen to the "Ask and You Shall Receive" message, then click the play button below. If not, then please read on.
I got a great lesson on this principle many years ago. I participated in a 10-K road race and struck up a conversation with an older gentleman as we waited for the race to start. This man was a rich lawyer and talked about his son and daughter with great affection.
He was telling me how his daughter was in graduate school and how he had paid for that. He had also paid for her standard college education before that. He told me that he had done the same thing for his son. The man said that he was so glad that he had the resources to be able to do this, and his pleasure was apparent.
Not having had the benefit of an Earthly father's love nor provision, I greatly admired this father's dedication to securing his children's future.
Well, you have a heavenly Father who is able to give far beyond what that earthly father could. And yet, many don't receive because of five primary issues.
If you want to receive greater from the Lord in all areas of your life, including in your health, finances, and relationships, then you want to ensure that nothing is blocking your ability to receive.
Check your life in these 5 areas:
1. Your daily relationship with God. I am sure the lawyer in my previous story knew many people around him who desired and needed a college education. And yet, he felt no obligation to pay for them. Why? Because he did not have an intimate relationship with them!
However, he did have a personal relationship with his son and daughter. Because they had lived (abided) with him, he knew their ways and his children knew his ways.
When you know someone intimately, can't you predict their answer on some requests before you even ask? You can do this because you know their character, ways, will, and ability to fulfill your request.
Search your heart: Do you walk with God daily so that you know His character, His ways, His will for your life, and know beyond a shadow of a doubt that He has the ability to fulfill your request?
If you do not, then this is the place to start.
Even though some people claim Jesus as their Savior, they live their daily lives as if they are orphans. But it is not God's will that you live as an orphan!
Instead, the essence of eternal life is relationship:
And this is eternal life, that they may know You, the only true God, and Jesus Christ whom You have sent (John 17:3)."
2. Your willingness to ask. Scripture tells you to ask and you shall receive. However, asking is a humbling experience and some people are just too prideful to ask. They cherish the image of themselves as being strong and independent, not needing anything from anybody – even God.
I used to be like that. That made life so hard! I believe that this attitude contributed to my weight gain back when I was 240 pounds. I often felt like the weight of the world was on my shoulders mentally. And eventually, that feeling translated itself into my physical being!
But the truth is that none of us is complete unto ourselves, nor are we perfect. Living in reality means that we recognize our imperfections, our humanness; We need God and other people to fill gaps in our wisdom, knowledge, and resources.
Sometimes pride can mask itself as fear also. We tell ourselves that we don't want to ask because "they" might turn us down or disappoint us. Well, regarding other people – what if they do? Do you believe that you will survive that?
You see, I believe that many people don't ask or try because they believe that rejection or failure will damage their self image beyond repair. But will it really?
What if you instead learn from it and use what you learned to try something else? What if you become willing to fail your way to success as necessary, taking what you learn to move forward?
If you really believe that the rejection or failure will damage your self image beyond repair, then that is an idol in your life. It means that your self-image was built on the wrong thing to begin with. The only proper foundation of self image is what God says about you.
But not asking increases the odds to 100% that you will never receive. At least if you do ask, you have the possibility that you will receive a "yes." So humble yourself and ask.
Likewise you younger people, submit yourselves to your elders. Yes, all of you be submissive to one another, and be clothed with humility, for "God resists the proud, But gives grace to the humble (1 Peter 5:5)."
I don't know about you, but I need abundance of God's grace to be victorious in this life. So I strive to stay humble and am willing to ask of Him and others.
3. Your motives. According to James 4:2-3, two reasons exist for not receiving from the Lord – not asking and asking amiss. What does it mean to ask amiss? I think it means asking for things that are outside of God's will.
The Greek word for sin is hamartia, which comes from the root word hamartano. It is a word that ancient archers used to indicate they missed the mark or the bull's eye. This word not only indicated the archer missed the mark, but also that they missed out.
Often, a prize was at stake if they did not hit the bulls eye. So the archer aimed carefully so they could to hit the mark and win the prize. So we should be with our requests to God.

Are we taking time to look into His word so that we are clear about our target? Or are we aiming carelessly because our motive is a fleshly desire that we want to fulfill – nothing to do with God's will nor building up His kingdom?
John 15:7-8 says that as God's word abides in us, we ask what we desire and it is done for us. Spiritual fruit is the result – love, joy, peace, patience, kindness, goodness, faithfulness, gentleness and self control (see Galatians 5:22-23).
What Spiritual fruit will be born from the result of God fulfilling your request?
God won't say "yes" to requests born of the flesh. So seek His word and His mind in every situation so that you can have confidence that you are aiming at the right target. Then you can aim your prayers carefully at that target and have confidence that you will hit the bulls eye and obtain the prize.
4. Your obedience. When you have confidence that you have the right target and your prayer requests are aimed at that target, often the Holy Spirit will give you an instruction to follow. Many people do not receive what God has for them because they will not obey what the Holy Spirit tells them to do.
Here is an example in the weight loss arena. Often people will say that they hate the excess weight they've gained, yet they want to stay in love with the habits that led to that result! By wanting to have it both ways, they put themselves in a "no-win" situation.
Instead, they need to "break up" with the weight gain habits and form new relationships with weight loss/healthy habits.
This mental shift is consistent with a Biblical principle:
And no one puts new wine into old wineskins; or else the new wine bursts the wineskins, the wine is spilled, and the wineskins are ruined. But new wine must be put into new wineskins (Mark 2:22)."
So do a heart check: "Has the Lord given me an instruction in an area I have been praying about, but I have not done what He has asked of me?"
If that is the case, then that is your next step in your request becoming a reality. A common saying is, "Many people say that they are waiting on the Lord, but the Lord is waiting on you."
Make this your request in prayer:
Lord, give me ears to hear what you are speaking to me and a heart to obey."
5. Your patience. This is one of my favorite movie scenes from the movie "Facing the Giants." Take a moment to watch – it's only about 2.5 minutes:
Hebrews 6:11-12:
And we desire that each one of you show the same diligence to the full assurance of hope until the end, that you do not become sluggish, but imitate those who through faith and patience inherit the promises."
God gives us great and precious promises in the Bible, but nowhere do I see a time frame on the manifestation of them. You see, it takes faith and patience to inherit His promises.
Many people miss this critical point and so they don't receive from the Lord. When the promise isn't manifested in the time frame they have set, then they allow themselves to become double-minded and faint of heart. And scripture warns that double-mindedness disqualifies you from receiving from the Lord (see James 1:8).
So what do you do once you are confident in your relationship with the Lord, sought His mind to ensure you are asking in line with His will, made your request, and then obeyed any instruction He has told you to do?
Live and cultivate a thankful heart! Remind yourself daily of all the blessings the Lord has bestowed upon you.
Do not put your life on hold waiting for the manifestation of your request. Let God's peace rule your heart. Keep on operating in your purpose and be diligent in doing the things that He has told you to do. Diligence means to pay consistent and careful attention.
Put your hope in the Lord, not in the fulfillment of the request. This was a lesson I had to learn several years ago.
I was single and wanted to get married. I had put a time-frame on God: I must be married by the time I was 30 years-old.
Well, God did not obey my time-frame! In fact, I got to aged 40 and still wasn't married.
Then, one day the Lord told me: "Stop praying for a husband; start praying for your husband." So I got a prayer book and starting praying daily prayers from that book for my husband, whoever and wherever He was. I knew God knew him. I also started reading books on how to become a Godly wife.
I was "preparing my field" to receive!
In the meantime, I did not put my life on hold. I knew that if I could not be happy without a husband, I would never be happy with one. So I found joy in doing the work that the Lord called me to do and focused on glorying Him.
It was challenging at times to keep my faith as the years passed without a husband in sight, but one day Mike Taylor found me in a most unexpected way. And I finally got married at the age of 45. I can tell you that Mike was worth waiting for!
Your request is also waiting for too.
Repeat after me: My wait is not worthless!
The Lord is not making you wait to watch you squirm. He makes you wait so that you will be perfected and complete in that area. He wants you to have the character needed to hold on to your blessing when it comes!
Learn how to practice patience daily in the little things. Even something as small as practicing patience in long lines or patience at a traffic light is perfecting you to receive bigger things.
James 1:2-4 says:
My brethren, count it all joy when you fall into various trials, knowing that the testing of your faith produces patience. But let patience have its perfect work, that you may be perfect and complete, lacking nothing."
Whew! This post turned out to be a lot longer than I figured on when I started. But I believe that the Lord wants us to have everything that He desires us to have. He has a part to play and we have a part in manifestation of our prayers.
Be sure that you are doing your part and trust God to do His part. As God, it is His prerogative to choose the time-frame and the method by which He answers prayers.
Be blessed in health, healing, and wholeness,
Kimberly Taylor
Author of the 'Take Back Your Temple' program
https://takebackyourtemple.com/program
P.S. If you believe that TBYT is the right program for you, then order it today. If you are not satisfied, you can request a refund with no questions asked.
Click here to learn more about the Take Back Your Temple program