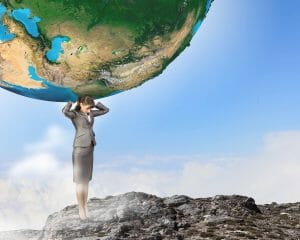 When I weighed 240 pounds, I felt like I carried the weight of the world on my shoulders.
Eventually my emotional weight became excess physical weight.
Recently, I spoke to an old friend who is struggling with her weight, physically and emotionally:
She is carrying the weight of caring for a sick relative.
She is helping to take care of her grandchildren
She is the one other people call when they need "rescuing"
Although some of my friend's responsibilities are unavoidable, she is also carrying around weight that is unnecessary.
On my own successful weight loss journey, I had to learn that the Lord never intended for us to carry the weight of the world. After all, we have a race to run in Jesus.
We can't finish well if we are trying to run with the weight of the world on our shoulders!
The following are 3 scriptures to help you release unnecessary weight right now.
1.Release past weight.
If you are carrying weight from past hurt, that is weight to give to the Lord. You have a new identity as His precious child.
The Lord promises in Psalm 147:3:
He heals the brokenhearted And binds up their wounds."
If you are hurting from past wounds, cry out to Him with your whole heart, knowing that He is the only one with the power to heal hearts.
2. Release present weight.
In Matthew 11:28-30, Jesus gives us an invitation:
Come to Me, all you who labor and are heavy laden, and I will give you rest. Take My yoke upon you and learn from Me, for I am gentle and lowly in heart, and you will find rest for your souls. For My yoke is easy and My burden is light."
If you feel burdened, then you qualify for this promise! Jesus says, "Come to me."
Are you coming to Jesus everyday through your prayers and fellowship with Him? Are you seeking His wisdom in the problems you face so you know which responsibilities are yours and which are not?
When you take Jesus' yoke upon you, that means that you are joined with Him, walking together with Him.
He is built to carry the heavier burden; you are not.
Seeing Him rightly in your relationship with Him is the only way that you can get that weight off you and find rest for your soul.
3. Release the weight of sin, unforgiveness, and destructive habits
Hebrews 12:1 exhorts us:
Therefore we also, since we are surrounded by so great a cloud of witnesses, let us lay aside every weight, and the sin which so easily ensnares us, and let us run with endurance the race that is set before us,"
Can you imagine running a race with a 100-pound weight strapped to your back?
Sin, unforgiveness, and destructive habits (like gluttony) are all heavy weights!
Since we need endurance to finish this life's race, God's word says that we need to lay aside every weight that impacts our ability to finish well in Him.
Let us remember that we are just moving through this life. We have eternal life in Christ and our purpose is to glorify Him.
We are kingdom citizens, created for a kingdom purpose.
4. Keep weight off with the garment of praise
Isaiah 61:3 says that the Lord's glory is:
To console those who mourn in Zion, To give them beauty for ashes, The oil of joy for mourning, The garment of praise for the spirit of heaviness; That they may be called trees of righteousness, The planting of the Lord, that He may be glorified."
Why does He do this?  He does these things so that you can be called a tree of righteousness, His planting so that He is glorified! So put on your garment of praise to keep unnecessary weight off.
In the Take Back Your Temple online weight loss program, you will receive learn even more Spirituals truths that will release you from destructive habits.
While Jesus did not promise that we would have a trouble-free life, He did promise that He has overcome the world.
We can overcome too when we release the weight of the world. Jesus gained the victory and so can we!
Be blessed in health, healing, and wholeness,
Kimberly Taylor
Creator of the Take Back Your Temple weight loss program
P.S. My pastor is fond of saying, "When you change the way you look at things, the things you look at will change. In my own successful weight loss journey, I learned I needed God's word to change the way I looked at things.
My old ways of thinking led me into bondage to depression, anxiety, and fear. I ate emotionally to deal with those painful feelings.
But once I learned how to handle my emotions God's way, I was no longer driven to eat out of control. I became emotionally stable and gained peace.
As a result of that mind makeover, I dropped from a size 22 to a size 8.
In the Take Back Your Temple online weight loss program, you will join a community of your sisters and brothers in Christ who are also undergoing their own mind makeovers and can support you on the journey to reaching your ideal weight.
With each passing day, you will be encouraged and gain confidence that you can do this with God's help!
Click here to learn more about the Take Back Your Temple online weight loss program