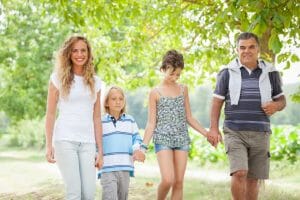 "Wellness is a daily choice…" echoed in my Spirit this morning after reading a wonderful testimony from a man who chose to get well. He was a smoker, overweight, and struggling with high blood pressure. However, he decided to change 2 years ago.
He is now walking his dog or hiking for 30-60 minutes every day, eating salads and vegetables daily, and cutting down on his portion sizes. He has lost weight and brought his blood pressure down to normal.
But the change started the moment he made the daily decision to get well.
Do you remember the story about Jesus and the sick man at the pool of Bethesda (see John 5:1-15)? This man had suffered from his infirmity for 38 years. Not only that, but he was surrounded by other sick, suffering people at the pool. He was in a sick environment for so long, sickness became his "normal."
But now he had the way to change that. Jesus was right in front of him. When Jesus saw him, he asked the man a powerful question: "Do you want to be made well?"
I think that is the question each of us must answer for ourselves daily. Because wellness is a daily decision, we need to make the choice to do those things that lead to wellness.
Now, some of us are answering "No" or "Not enough" to the question without even realizing it. I recently learned that 1/3 of deaths today can be traced to just 4 behaviors:
• Inactivity
• Poor nutrition
• Tobacco use
• Excessive alcohol use
Think about this: You may say your answer to "Do you want to be made well?" is "Yes." However, you tell a different story when you choose to stay inactive instead of exercising, choose to eat regular junk food instead of fruits and vegetables regularly, choose to smoke, or choose to drink alcohol to excess.
For most people, the answer to the question is "Not enough." It's not that you don't want to be made well; it's just that you want to remain inactive, eat junk food, smoke, or abuse alcohol MORE. That is what you are really telling yourself at the moment of decision, whether you say it out loud or not.
We all have daily choices to make. I always consider Deuteronomy 30:19-20 – "I call heaven and earth as witnesses today against you, that I have set before you life and death, blessing and cursing; therefore choose life, that both you and your descendants may live; that you may love the Lord your God, that you may obey His voice, and that you may cling to Him, for He is your life and the length of your days;"
We love the Lord and have eternal life in Jesus Christ. So we've already made the most important decision in life. Feel good about that! However, I also believe God wants us to fulfill our life's purpose while we are on Earth. And doing what we can daily to stay well is essential to that purpose.
I hope you decide today to answer "Yes" to the "Do you want to be made well?" question and make small daily choices to affirm your answer. Ask God in prayer what small step you can take today. The man in the testimony didn't try to change everything at once. Rather, he decided to stop smoking and focus his energy on that one habit first. Then, when he got that under control, he went to work on other habits.
I hope you ask the question "Do you want to be made well?" with every health decision and affirm "Yes" with your actions. Someday soon, you too will have a wonderful testimony that will inspire others and be able to say "Look what the Lord has done!"
Kimberly Taylor
Take Back Your Temple
www.takebackyourtemple.com
Be Blessed with Health, Healing, and Wholeness,
Kimberly Taylor

Author of the Take Back Your Temple program
P.S. Do you struggle with overeating sugar? If so, you are not alone!
Overcoming sugar addiction was a key factor on my weight loss journey; I lost 85 pounds and dropped from a size 22 to an 8.
In our 14-day Sugar Detox Challenge online course (inside the Take Back Your Temple program), you'll get the same success strategies and support to gain peace in your eating habits and achieve lasting weight loss.
Click here to learn more about the Take Back Your Temple program.
"Prayer for Weight Loss"