In some old Bugs Bunny cartoons, they had a funny way of showing how the character made decisions.
He would have an angel on one shoulder and a devil on the other advising him on what to do.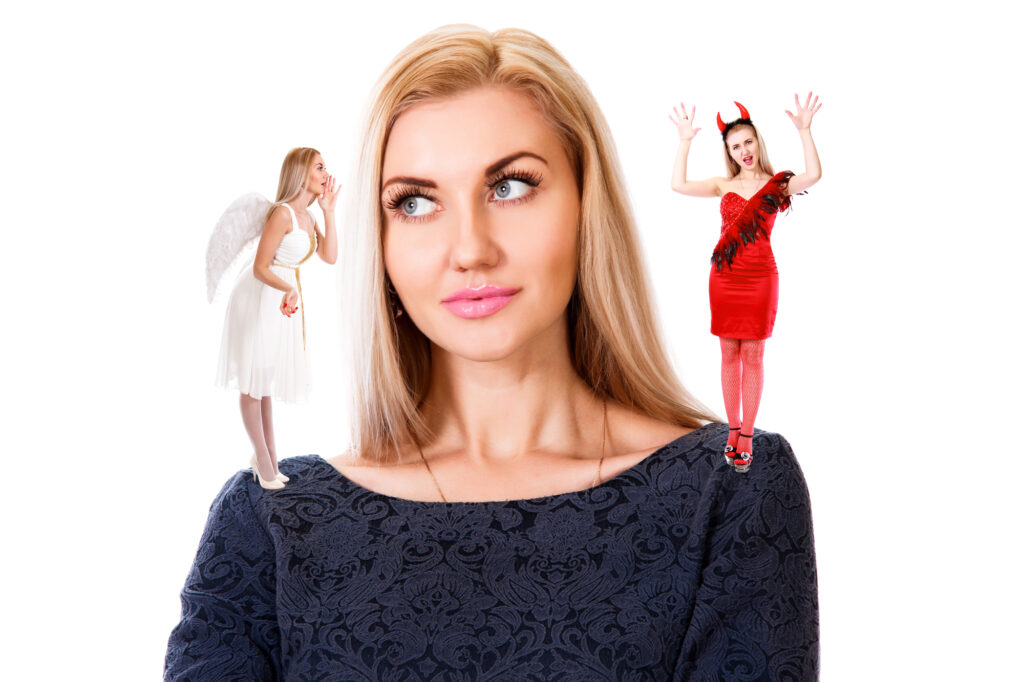 Of course, the angel would tell Bugs the right thing to do. The devil would counter with the wrong thing to do.
Whoever had the most persuasive report would determine the direction he would go!
Something similar to happens to us every day.
The reports we believe determine the emotions we feel.
The emotions we feel often determine the actions we take.
The actions we take determine the direction of our lives!
In God's word, He says there is a path that leads to death and destruction and another path that leads to life and peace.
In the following article, you'll discover 3 ways to choose the path of abundant life and peace.
This is critical information to have if you don't want to keep falling for the enemy's schemes against you!
Here is how to consider whose report you will believe:
1. Agree
We filter our perceptions of the world through our existing beliefs.
We all have life-giving beliefs and life-destroying beliefs.
Those that agree with our faith in Jesus are life-giving; those that agree with the world's way are life-destroying.
In Deuteronomy 30:19-20, the Lord makes the choice clear as to which beliefs to choose:
"…I have set before you life and death, blessing and cursing; therefore choose life, that both you and your descendants may live; that you may love the Lord your God, that you may obey His voice, and that you may cling to Him, for He is your life and the length of your days;"
Within ourselves, we must make a conscious decision to agree with what God says daily.
A big part of that is learning to discern God's voice from the enemy's voice.
2. Heed
While agreeing with God's word is a necessary first step, it is not enough.
Heed means to listen to God's voice and most importantly, to follow His instruction.
In John 10:27, Jesus says, "My sheep hear My voice, and I know them, and they follow Me."
We belong to Jesus. Therefore, we:
Know our Shepherd
Believe our Shepherd
Follow (obey) our Shepherd
We know Jesus loves us and has our best interests at heart.
We may not know always know where He is taking us, but we have confidence that it will be someplace good!
Now, I must admit that I have not always had the confidence in the Lord that I have now. Lack of trust led me to disobey Him.
When I was disobedient in following him, it was because:
I thought I knew better than God did (pride). Turned out, I didn't know better.
I thought obedience would be painful. In some cases, I was right; obedience was painful in the short term. But in the long term, God brought me to a better place.
None of us like experiencing pain in our flesh. Yet, where would we be if Jesus had not been willing to suffer in His flesh to save us from our sins?
Jesus lived His life as a sacrifice and example for us:
"And being found in appearance as a man, He humbled Himself and became obedient to the point of death, even the death of the cross (Philippians 2:8)."
As Jesus' disciples, we are called to sow to our Spirit, not to our flesh.
Galatians 6:8 says:
"For he who sows to his flesh will of the flesh reap corruption, but he who sows to the Spirit will of the Spirit reap everlasting life."
We enjoy our lives more, have more confidence, and gain peace when we are walking in agreement with what our Lord wants!
3. Feed
Just as you can't eat one meal in your life and expect nourishment forever, so you must feed the Spiritual side of yourself regularly.
You do that through agreeing and heeding what the Lord says through your daily choices.
With each passing day, you will grow stronger Spiritually and be able to overcome all power of the enemy!
So, whose report will you believe?
I hope you will continue to:
Agree with God's word.
Heed God's word and put it into daily practice.
Feed your Spiritual side through your daily choices.
The more you do that, the more you operate with the mind of Christ, and the more life and peace you experience!
Be blessed with health, healing and wholeness,
Kimberly Taylor
Author of the Take Back Your Temple program
P.S. When it comes to weight loss, do you often know what you should do but have a hard time doing it?
You are not alone!
I struggled with this issue on my own weight loss journey, but I discovered that "Nothing is different until you think differently." – Pastor James MacDonald
The value of the Take Back Your Temple program is that you will learn how to think differently through using Biblical keys to overcome obstacles. You'll discover how to win the Spiritual and mental battle that often causes us to become inconsistent and get off-track on our weight loss journey.
This is "can't-miss" information if you are ready to succeed permanently and join a community of others doing the same.
Click here to learn more about the Take Back Your Temple program