If you are ready to grow Spiritually, heal emotionally, and lose the weight, then the Take Back Your Temple Christian weight loss program is for you.
Many people try to lose excess weight with diets. However, the pounds they lose often come back.
But have you tried using Biblical principles on your weight loss journey?
When I invited God into my daily journey of losing 85 pounds, He made all the difference!
Weight loss is a Spiritual and emotional battle. A diet can never overcome these issues. But God's word does!
Testimonials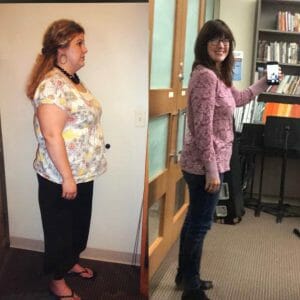 Now that I've lost 36 lbs (and got a striking new hair cut), it's pretty noticeable to everyone around and people are starting to ask questions. This time around has been different because I have chosen to never diet again. I've found a way of life that works for my body.
My joints are almost pain-free, my mood is great, I have the energy to take care of my little ones, and I've brought God into this journey."
– Leah C.
Hey there Kimberly,  I want to thank you for your course on Take Back Your Temple.  It has turned my attitude around.  No longer am I fighting myself and my addiction to food.  I have asked God to take back his temple and rid me of my bad eating habits.  This is not a gimmick; it is founded in respecting our bodies as God's temple.
I am no longer fighting myself.  Thank you so much for your insights and your love of God!  Blessings in Christ, Diana"
– Diana W.
Click here to learn more about the Take Back Your Temple online weight loss program.