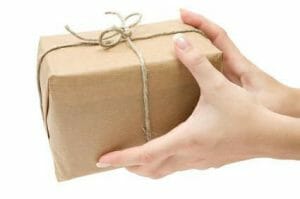 A couple of years ago, I was teaching a lesson at church called "Preparation for Deliverance."
It was about God telling Moses that He was going to deliver the children of Israel from slavery (see Exodus 3:7-17).
As I was writing my lesson notes, I meditated on the word "deliverance," specifically its root word "deliver."
On the table right next to me, I had a little package to mail for delivery. Deliver means to move something from where it is now to where it needs to be.
A thought came to me: "What if letters and packages could dictate whether they would be delivered or not?"
I imagined my package speaking to me saying "No Kim. I'm comfortable right here on this table and I don't want to go!"
Now packages and letters don't have any control over whether they get delivered, but people do.
How many people say they want God to deliver them from a negative situation, but refuse to go when He tries to move them?
Through the Holy Spirit, they receive wisdom as to what they need to do start their delivery trip.
But just like the imaginary resistance from my little package, they refuse to go because they've gotten comfortable where they are.
If packages really had a mind, they might resist delivery too. After all, they might get rained on, dirty, or bounced around the delivery vehicle on the trip. Obviously, that would feel uncomfortable!
But suppose the ultimate destination was a desirable place, like Hawaii?
If the package really valued the benefits of Hawaii, then it would be willing to make the trip to get there!
They would be willing to endure the uncomfortable parts of the trip. They would just see it as part of the journey.
So my question to you is: If God needs to deliver you from something, do you REALLY want to go?
Are you like the imaginary resistance from my little package and have gotten comfortable where you are, resisting God's efforts to start the delivery process?
Here is one thing to check to ensure this isn't you:
In your thoughts, are you thinking more about the benefits once you reach your destination?
Can you see yourself delivered?
Are you meditating on that often throughout the day to encourage yourself?
Or are you thinking more about the inconveniences or being uncomfortable on the trip? If so, then you are likely resisting any efforts God is making to deliver you.
After today, I hope you will say confidently, "Lord, I want to go!" and be willing to endure whatever bumps and bruises that may occur during the trip.
You know that God is the ultimate Deliverer and He will get you to your ultimate destination right on time!
Be blessed in Health, Healing, and Wholeness,
Kimberly Taylor
Creator of the Take Back Your Temple program
www.takebackyourtemple.com