Each of us is living a story currently. The question is, "Are we creating a story worth telling?"
Is your story transformational? Or are you stuck in the same old story?
Most great stories revolve around a purpose that the heroine is destined to achieve but obstacles stand in her way.
The excitement comes from how she will overcome the obstacles and get the victory.
If she gives up, then who else will lose because she quit?
If she succeeds, then who else will benefit because she stayed the course?
This morning as I was reflecting on my life story, the attached quote came into my mind:
I want my life to be more about what is right with Jesus than what is wrong with me."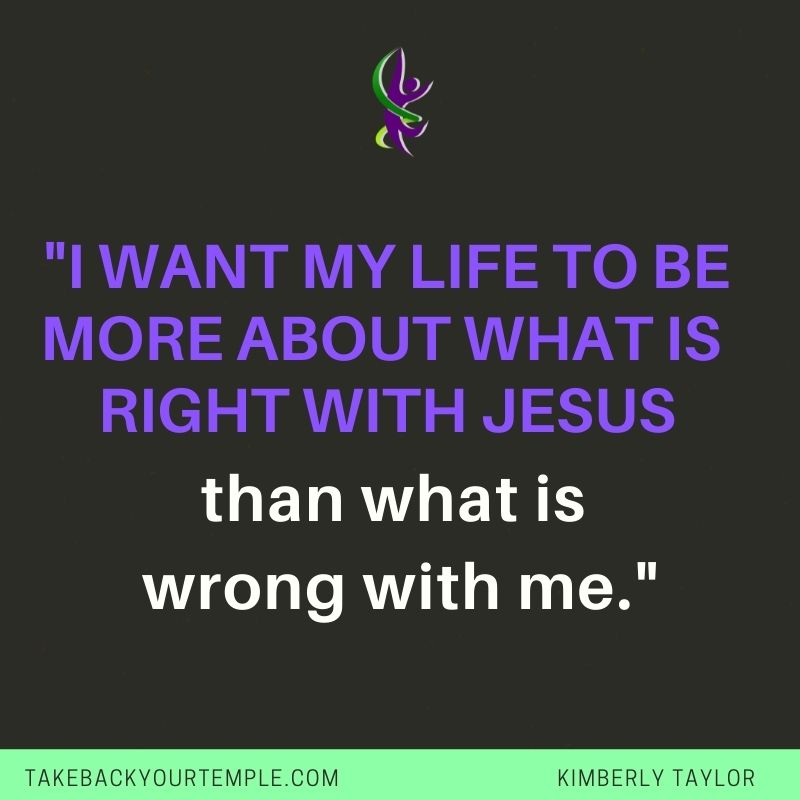 Too often, the enemy can get us to focus on what is wrong with us, our failures, weaknesses, and shortcomings.
But the Lord invites us to magnify Him and see ourselves through His loving eyes.
He gives us a new identity in Jesus.
As we walk with Him, the following destiny awaits us:
But we all, with unveiled face, beholding as in a mirror the glory of the Lord, are being transformed into the same image from glory to glory, just as by the Spirit of the Lord."

2 Corinthians 3:18
A great story if there ever was one!
So today, ask yourself: "What story have I lived? Is it focused more about what is right with Jesus? Or has it been focused on what is wrong with me?"
Thoughts to Help Shape your Transformational Story
Here are some thoughts to consider that will help you develop your transformational story:
Where I was
My experience meeting Jesus
Where I am now
Where I hope to be
Here is an example from my testimony back in 2006.
What is the story you want your life to tell?
Kimberly Taylor
Author of the Take Back Your Temple program
P.S. Are you struggling with the challenges of emotional eating? Many people with eating issues know what to do but have a hard time doing it. That is where you need a community that supports each other!
In the Take Back Your Temple program, you will get all the support you need to overcome the Spiritual and emotional battles of weight loss, connected in our Overcomers Christian community.
Click here to confirm the Take Back Your Temple program is right for you.