Can developing gratitude as a superpower help us lift today's burdens?
Many people are often so consumed with past mistakes or future worries that they miss today's opportunities!
Strength is available today, no matter how difficult that day may be.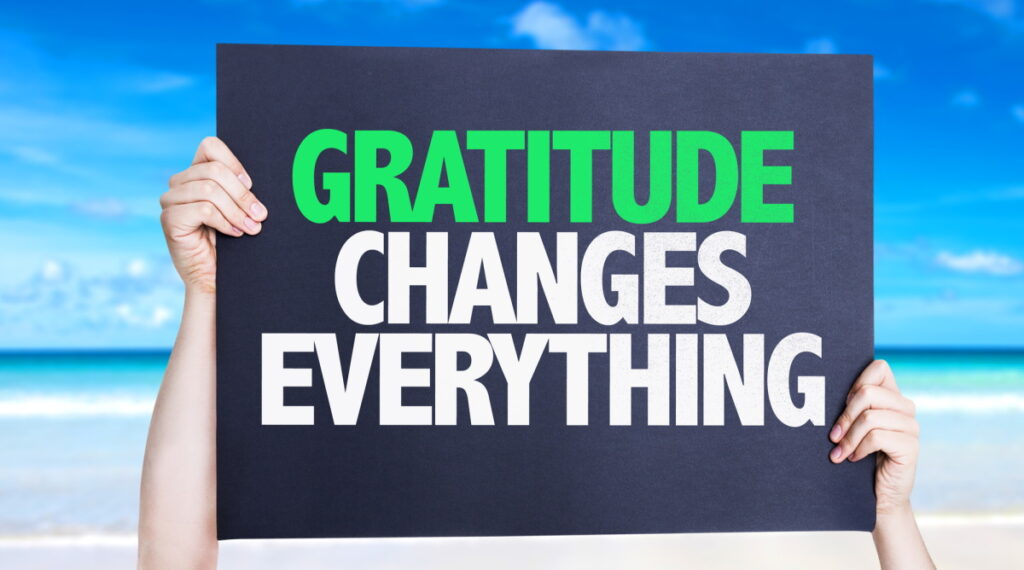 Here is how I used gratitude as my superpower recently. I was on a fast.
Now, you can get hungry during a fast. This particular fast was difficult and thoughts of, "I can't stand it" regarding the physical discomfort sowed doubt about my endurance.
I needed God's strength.
Suddenly a new thought captivated me: "Gratitude as a superpower."
I then shifted my focus to gratitude, praying:
"Thank you Lord that I know when and where my next meal is coming from. Many people will go to bed hungry tonight without that confidence. The fact that I do not have to go without a meal unless I choose to is a blessing."
My perspective changed instantly! Strength flowed through me.
I felt energized and empowered. And I endured the remaining fast hours.
Why Gratitude is a Superpower
Here are 3 reasons why I believe gratitude is a superpower:
Gratitude is important because it shifts our mental perspective from fear to faith.
Gratitude Brings Peace

Expressing gratitude through thankfulness keeps our minds stayed on God, bringing perfect peace.
Isaiah 26:3 tells us:
You will keep him in perfect peace, Whose mind is stayed on You, Because he trusts in You."
As you practice thankfulness even in the smallest things, expect peace to follow.
Gratitude Keeps us Centered in God's Will

Many people say they do not know God's will. However, 1 Thessalonians 5:16-18 gives us a place to start:
Rejoice always, pray without ceasing, in everything give thanks; for this is the will of God in Christ Jesus for you."
The prefix "re-" means "again" in the word "rejoice,"
This means we can experience joy again and again! More about that later.
When your heart is centered on gratitude in every situation, then you dwell in the center of God's will. That is the most secure place to be.
You experience God as your Jehovah Shammah: "the Lord is There.'
That title comes from Ezekiel 48:35, in which the prophet shares a heavenly vision:
The circumference of the city shall be eighteen thousand cubits. And the name of the city from that time on shall be, 'The Lord is There.'
God's presence is in your present, which is a present. See what I did there?
Gratitude Brings Joy with Strength
Thankfulness for God's character inspires worship; thankfulness for what He has done inspires praise.
Gratitude celebrates God's presence:
You will show me the path of life; In Your presence is fullness of joy; At Your right hand are pleasures forevermore."

– Psalm 16:11
The joy of the Lord brings strength (see Nehemiah 8:10)!
How to Develop Your Gratitude Superpower
Many people wonder: What is the difference between gratitude and thankfulness? My husband Mike and I arrived at this conclusion:
"The difference between gratitude and thankfulness is that gratitude is a state of being in your heart. Thankfulness is an action that expresses the gratitude in your heart outwardly."
Here are some specific steps to develop gratitude as your superpower:
Meditate on what you adore about Jesus. Why did you decide to follow Him? I recommend reading the gospels regularly and journal about your insights. The more you study Jesus' life, the more you will appreciate Him as your Savior.
Build "praise breaks" throughout your day. Notice what is true, good, noble, virtuous, praiseworthy, and of good report (see Philippians 4:8). Repetition creates habits. The more you express thankfulness even in the smallest things, the more you nurture a heart of gratitude.
Appreciate the people God has placed in your life. List them. Acquire "Thank you" cards and write each person on your list an appreciation note.
Marvel that the Lord loves you, thinks about you, and has good plans for your life.
Watch the amazing video below and then consider this scripture:
For I know the thoughts that I think toward you, says the Lord, thoughts of peace and not of evil, to give you a future and a hope.

– Jeremiah 9:11
The same God who created this vast Universe thinks about each of us. Amazing!
Visualizing your good future also energizes the present:
What do you want to be?
What do you want to see?
What do you want to have?
What do you want to share?
Developing gratitude as your superpower will empower you to navigate life sober and fully awake.
You will increase your resiliency to life challenges. No more hiding.
You may not know all details about your future, but you know the One who holds the future.
The Lord redeems your past, is present in your present, and has secured your future.
And that is a truth worthy of gratitude!
Be Blessed with Health, Healing, and Wholeness,
Kimberly Taylor

Author of the Take Back Your Temple program
P.S. Do you struggle with overeating sugar? If so, you are not alone!
Overcoming sugar addiction was a key factor on my weight loss journey; I lost 85 pounds and dropped from a size 22 to an 8.
In our 14-day Sugar Detox Challenge online course (inside the Take Back Your Temple program), you'll get the same success strategies and support to gain peace in your eating habits and achieve lasting weight loss.
Click here to learn more about the Take Back Your Temple program.
"Prayer for Weight Loss"