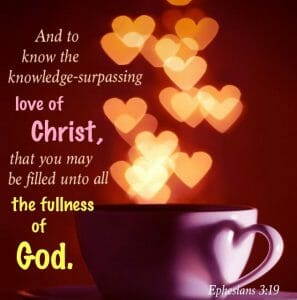 I was meditating on Ephesians 3:19 recently and a question arrested me. I challenge you to ask yourself this question today:
"What am I FULL of?"
Many people in the world feel empty or else are filled with the wrong things.
So they fill themselves up with food or the pursuit of fame, experiences, or accumulating material goods to distract themselves.
However, God wants His people to aim higher.
The Lord wants us FILLED with Himself!
Our Need for the Fullness of God
God's intention for our bodies to is function as His temple, His dwelling place. The church is not any building, but the people in them.
But without the fullness of God, people will seek to fill the space that is meant for God with something else.
Consider what the Lord said of the Israelites in Jeremiah 2:13:
For My people have committed two evils: They have forsaken Me, the fountain of living waters, And hewn themselves cisterns—broken cisterns that can hold no water.
However, we experience times of refreshing when we turn to the fountain of living waters.
Just imagine the good the body of Christ can do with every member filled with the fullness of God!
The evidence of His Spirit is the presence of His love, joy, peace, patience, kindness, goodness, faithfulness, gentleness, and self control (see Galatians 5:22-23).
With God on your side, you can be everything He calls you to be and do everything He calls you to do.
Not only does God's Spirit help you handle life's problems, but it empowers you for ministry.
We minister to others out of the overflow of His goodness, from a place of Spiritual fullness.
We can then impact the world for Christ.
Does that excite you? I hope so!
It is the highest purpose for which mankind was created – To be filled with all the fullness of God.
Experiencing the Fullness of God
In John 6:35, Jesus said: "…I am the bread of life. He who comes to Me shall never hunger, and he who believes in Me shall never thirst."
To allow yourself to experience the fullness God, live according to these truths daily:
1. God's love for you and your identity in God. God is your Heavenly Father whom you deeply love and highly respect. He created you according to His image and likeness.
You affirm the person that God created you to be, fearfully and wonderfully.
Therefore, you don't need to compare yourself to anyone else. You are a unique creation.
2. Your calling to walk as Jesus walked. He is the Light of the World, our Savior and the One to whom we dedicate our lives. His word is a lamp to our feet and a light to our path.
So, the wisest thing you can do is live in obedience to His word.
In John 14:23,  Jesus said: "If anyone loves Me, he will keep My word; and My Father will love him, and We will come to him and make Our home with him."
Did you notice that love comes first and obedience second? Therefore, we don't obey the Lord to try to get Him to love us; He already does!
Rather, we meditate on His goodness and all that He has done for us.
So, our obedience flows out of a desire to return the love He so graciously extends to us.
3. Your choice to depart from works of darkness. They don't call this a fight of faith for nothing!
The default of this world is to enslave its inhabitants to the enemy's lies and destructive habits.
But Jesus came to destroy the works of the devil (see 1 John 3:7-9).
Therefore, our major work is to renew our minds to the truth that Christ has made us free!
Because we no longer have to fear death of any kind, we are free to enjoy abundant life in Him.
So fill up on the joy of the Lord, which is your strength. Fill up on His peace, which surpasses all understanding.
Stay aware at every moment that there is no need for your cup to ever run dry; our Lord has a never-ending supply!
Be Blessed in Health, Healing, and Wholeness,
Kimberly Taylor, Creator of the Take Back Your Temple Program
P.S. If you are ready to grow stronger in mind, body, and spirit so you can live with energy and vitality, then click here to learn more about The Take Back Your Temple online program.
Your transformation can start today! But the enemy won't like it.
However, Jesus came to give us abundant life. We should never live in bondage to the enemy.
Learn more about getting free so that you live out your purpose with energy and vitality – the way God intended:
Click here to learn more about the Take Back Your Temple program.